FIFA proposes three minute stoppage if a player suffers a suspected concussion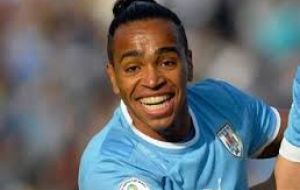 FIFA says its executive committee will this week discuss a proposal to introduce a three-minute stoppage if a player suffers a suspected concussion. Michel D'Hooghe, head of FIFA's medical committee, recommended the new rules for the treatment of head injuries following a series of incidents in recent months that have sparked criticism of FIFA.
At the Brazil World Cup, Uruguay's Alvaro Pereira was left unconscious after clashing with England's Raheem Sterling but he was allowed to carry on playing. Germany's Christoph Kramer sustained a head injury in the World Cup final and played on for 14 minutes before being substituted.
FIFA, which has undertaken a number of scientific studies about head injuries and concussion, acknowledged the need for new rules following incidents at the World Cup, which "have shown that the role of team doctors needs to be reinforced in order to ensure the correct management of potential cases of concussion in the heat of the competition".
Following recent discussions with team doctors and confederations, the FIFA medical committee agreed at a meeting on Monday in Zurich to submit a proposal to the ExCo.
"Under the proposal, whenever a suspected incident of concussion occurs, the referee will have the ability to stop the game for three minutes, allowing the relevant team doctor to complete an on-pitch assessment and decide if the player has suspected concussion," FIFA said in a release.
"The referee will only allow the injured party to continue playing with the authorisation of the team doctor, who will have the final decision."
The Premier League introduced similar regulations at the start of the season. FIFA approval means the new rules will be implemented by the beginning of October.
The medical committee also reported that no positive doping cases were recorded at the World Cup.
"For the first time at a FIFA World Cup all participating players underwent out-of-competition anti-doping tests in addition to routine in-competition tests. 256 samples were taken in-competition and 777 out-of-competition, with no positive results," FIFA said.
"Despite early concerns concerning the shipment of samples to Switzerland due to the lack of an accredited laboratory in Brazil, all samples were delivered on time, with analyses from the lab in Lausanne completed two days before the following match of the respective teams."
FIFA said the World Cup also marked another key step in the implementation of its biological profile of athletes, with 1300 players from 55 countries now included in FIFA's database – 470 of which have already been tested at least twice, and in some cases as often as seven times.