US dollar brushes 16 Argentine Pesos, settles at 15.95; monthly devaluation 12.4%
Thursday, September 25th 2014 - 05:11 UTC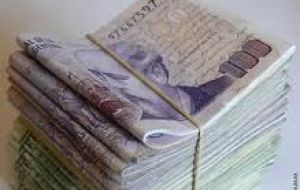 The informal rate for the US dollar in Argentina kept climbing on Wednesday and after brushing 16 Pesos, finally closed 53 cents higher at 15.95 Pesos, while the gap with the formal dollar soared to 89%. Distrust with government policy, plain speculation and hikes in the stock exchange rate were blamed for the situation.
As it did all week, the stock exchange rate boosted the so called "blue" dollar climb with a 22-cent hike, as investors sought to gain dollars by purchasing bonds and shares. But around noon, official operations pushed the stock exchange rate down two cents and made it close at 14.47 Pesos. Meanwhile, the blue-chip swap rate closed steady at 14.49 Pesos.
The formal rate for the US dollar closed on Wednesday without changes at 8.44 Pesos in Buenos Aires City banks and foreign exchange offices, after falling back a cent on Tuesday.
The Argentine Peso has lost 12.4% of its value vis-a-vis the US dollar so far this month while the 89% gap is the highest of the year but still below the 101% record of May 2013.
The Argentine Central Bank sold 20 million dollars on Tuesday with its reserves slightly going up by 3 million, totaling 28,216 million, while on Wednesday the balance was a 5 million dollar increase to 28.221bn.
Confusion as to which dollar and in what quantities importers can request in Argentina have also caused further uncertainty in the Buenos Aires market.