Pope Francis removes Opus Dei bishop accused of protecting pedophile priest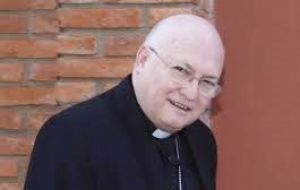 Pope Francis has dismissed a conservative Paraguayan bishop who was accused of protecting a priest suspected of sexually abusing young people in the United States, the Vatican said on Thursday.
The Argentine-born pontiff has vowed zero tolerance against Roman Catholic clerics who sexually abuse minors after a series of scandals hit the Church in a number of countries around the world over many years. Last May, Francis called such abuse an "ugly crime" and likened it to "a Satanic mass".
A statement said the pope had removed Bishop Rogelio Ricardo Livieres Plano from his post as head of the diocese of Ciudad del Este and named another bishop to run it as an administrator for the time being.
The pope's sacking of the bishop came after a Vatican investigation of the bishop, the diocese and its seminaries, said the statement, which gave no details.
Vatican sources said the bishop had refused to resign following the investigation of the accusations and reports of irregularities in his diocese.
According to reports in Catholic media while the Vatican investigation was in progress, Livieres Plano had promoted a priest in his diocese who had been accused of sexual abuse while serving in the United States.
A US bishop had told Paraguayan Church officials that the priest, an Argentine national who had been promoted to a senior position in the Paraguayan diocese by Livieres Plano, was a "serious threat to young people", according to the reports.
Livieres Plano had defended both himself and the priest, saying the charges against them were unfounded.
The dismissed bishop, a member of the conservative Roman Catholic group Opus Dei, had also become a polarizing figure in the Paraguayan Church and often clashed with more progressive clerics.
The Vatican said Pope Francis had taken the "onerous decision" to remove Livieres Plano after careful examination of the results of the Vatican investigation. He has previously said bishops who covered up abuse would be held accountable.
The dismissal of Paraguayan bishop came two days after the pope approved the arrest in the Vatican of a former archbishop accused of paying for sex with children while he was a papal ambassador in the Dominican Republic.