Brazils' Bovespa and Real plunge as Dilma climbs in polls with less than a week to election
Tuesday, September 30th 2014 - 04:40 UTC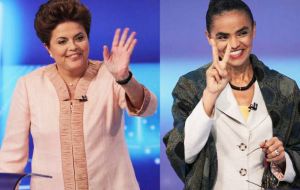 Brazilian financial markets took a beating on Monday after polls showed President Dilma Rousseff pulling past challenger Marina Silva ahead of Sunday's election. The Brazilian currency closed at its weakest level since December 2008 while the benchmark Bovespa stock index notched its biggest one-day loss in over three years.
A poll released late on Friday by research firm Datafolha showed Rousseff with 47% of voter intention against Silva's 43% in a potential second-round runoff. Silva had once led by as much as 10 points in a potential runoff. Another poll released just before market close on Monday showed Rousseff with 47.7% in the second round, against Silva's 38.7%.
Brazilian investors have been heavily critical of Rousseff's government for implementing policies that have gone against minority shareholder interests in state-run companies and a tendency to enact one-off stimulus measures rather than structural reforms.
Meanwhile the Real plunged as much as 2.54% in early trade to 2.478 per dollar before paring losses to close about 1.29% lower at 2.4552 per dollar. Many traders see Brazil's risk premium declining under a different administration, which would help attract foreign investment and support the Real.
In the past the central bank has stepped up its intervention in the currency market when the Real has weakened sharply in an effort to limit pass-through to inflation.
Central bank director Carlos Hamilton de Araujo said on Monday that the bank is paying attention to the effects of a weaker currency on inflation, but he stressed that the pass-through, or the increase in import prices as a result of a weaker currency, is lower now than in previous years. Araujo also told reporters that the bank's daily intervention program has worked well, but he declined to elaborate.
Yields on Brazilian interest rate futures shot higher across the curve as traders demanded higher returns for holding riskier Brazilian assets.
The Bovespa index dropped 4.5% and closed below 55,000 points for the first time since mid-July as shares of widely traded state-run firms plunged. Preferred shares of oil producer Petrobras, fell 11.2%, closing the session with their biggest one-day loss in almost six years.
Investors in Petrobras have lambasted the Rousseff government for forcing the company to import fuel at global prices and sell it at a loss in the domestic market as a way to tamp down inflation.
Shares of state-run lender Banco do Brasil SA fell about 8.5%, their biggest one-day decline since the global financial crisis of late 2008. The bank saw its shares sink due to government intervention in 2012 after the Rousseff government forced it to lower lending spreads in an effort to cheapen credit and boost consumption.
Finance Minister Guido Mantega shrugged off the market moves on Monday, telling reporters that "some players like to use the elections to move the market".
Expectations of a government change in Brazil helped to sustain the Brazilian stock market since the beginning of the year but when Dilma in the last month started to gain ground, the Bovespa plunged 10.6%, with Petrobras one of the hardest hit, down 24% so far this month.