Brazil private sector wants to help Argentina in the dispute with 'holdouts'
Friday, October 3rd 2014 - 07:36 UTC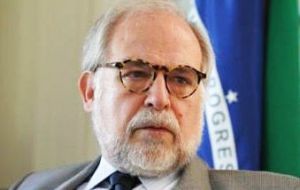 According to Argentina's leading and most influential financial newspaper, Ambito Financiero, Brazil, via the private sector could come to the rescue of Argentina in its ongoing dispute with the speculative funds in the New York court presided by Judge Thomas Griesa.
The person who expressed confidence that the 'vulture funds' dispute of Argentina will be over during the first half of 2015, is Marco Aurelio Garcia, an very influential official both with the Lula da Silva and currently Dilma Rousseff administrations.
"There are initiatives in Brazil, with the private sector, that are working toward that goal, with our know-how, our supervision and our complete willingness to help" said Marco Aurelio Garcia. He is considered a good friend of Argentina in intellectual circles.
Apparently private negotiations have as goal to purchase the debt owned by "holdouts", which have already received a favorable ruling by Judge Thomas Griesa and the US Supreme Court.
However the main demand of those carrying out the negotiations is to receive enough guarantees on the repayment capacity of Argentina's government.
But there's also a condition for the Cristina Fernández administration: any settlement cannot include only the 1.6 billion dollars of the case in question but also the entire "holdout universe," a reasonable demand in order to avoid a new wave of legal action in the near future for as much as 20 billion dollars.
Marco Aurelio said that he thought the idea was excellent: "everything that may help Argentina would have my support. But that they need to do it in silence. Because the key to these types of negotiations is to be discreet".
And why is the Brazilian private sector interested in the issue: the one that can result from them being financial intermediaries on a deal that may bring Argentina out of default and secondly to avoid the legal saga to produce greater damage to Brazil's economy, given the significant bilateral trade.
According to Marco Aurelio Garcia, "there's a possibility that this issue may be solved with the end of the RUFO (Rights Upon Future Offers) clause," the one that expires at the end of this year and would allow those who accepted the 2005 and 2010 restructurings to demand the full payment of the face value of their bonds if the government offers better terms before the end of the year.
"This would seem like a good solution to us. Argentina could enter a smooth period when it comes to funds. The other problems will have to be solved by Argentines — and there's an election coming up next year."