Pacific Alliance and Mercosur will attempt convergence, sponsored by Chile
Saturday, October 4th 2014 - 08:25 UTC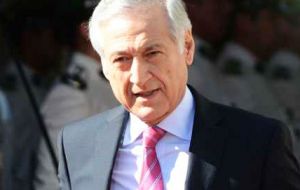 A first meeting to assess opportunities for accords between the Alliance of the Pacific and Mercosur will take place next November in Santiago de Chile confirmed, confirmed Chilean foreign minister Heraldo Muñoz.
The meeting is scheduled for 24 November and the objective is to establish a road map that could lead to a convergence of the open market Pacific countries, Chile, Peru, Colombia and Mexico with Mercosur Argentina, Brazil, Paraguay, Uruguay and Venezuela, which have a more restrictive approach towards the private sector.
"The idea is to discuss different forms for specific accords between the Pacific Alliance and Mercosur, on the understanding that at this stage it is not realistic to think about a tariffs and regulations convergence, given the existing differences", admitted Muñoz.
The November meeting will be held at foreign ministers level plus representatives from regional organizations such as the Inter American Development Bank, the UN economic office ECLAC, ALADI, Latin American integration association plus academics.

The idea of a possible integration was first announced by Chile last June during the summit of Pacific Alliance presidents in Mexico. The Alliance only has three years and its main objective is to promote trade and investments with Asia and the Pacific. Contrary to Mercosur, the Alliance promotes free trade, open markets, a strong private sector with governments limited to regulatory tasks.
Chile also admitted that in the event of a possible convergence between the two blocks a 'two speed' approach should not be discarded.
"If some countries can move faster towards integration and are willing to do so, they should be encouraged and be facilitated to move in that direction, while the rest can move at a slower pace but with a common horizon", said Muñoz.
"You can argue that the Pacific Alliance will move faster and Mercosur has its own rhythm, in a way it meets its own commitments, but we must be aware that a convergence is needed, almost imperative for a strong regional architecture", added the Chilean official.
Alliance members have a trade agreement with significant tariff reductions for 92% of items traded, represent 36% of the region's GDP, and over 50% of exports. Uruguay and Paraguay are observers of the Pacific Alliance and have publicly announced they want to join the group, but are limited by the consensus clause that binds all Mercosur members regarding third parties.