US trade deficit down, while oil imports fall to their lowest in four years
Saturday, October 4th 2014 - 10:29 UTC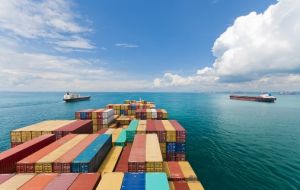 The U.S. trade deficit slipped 0.5% in August to 40.1 billion, the lowest since January, the Commerce Department reported Friday. Oil imports fell to their lowest level in four years.U.S. exports increased 0.2% in August to a record 198.5 billion, while imports grew 0.1% to 238 billion. After a 40.3 deficit in July, analysts expected a 40.9 billion trade gap in August.
The U.S. exported a record 14.1 billion in petroleum products and imported 27.2 billion, the smallest amount since late 2010. As a result, the country's energy deficit dropped in August to 13.1 billion, the lowest level in 10 years.
U.S. exports have increased 4.1% since August 2013 and imports have grown 3.7% in the period.
The shrinking trade deficit may provide impetus for stronger economic growth in the United States in the second half of this year, as U.S. exports continue to increase despite weak international demand.