Huge gathering or Pacific walruses in Alaska beach because of climate change
Sunday, October 5th 2014 - 10:05 UTC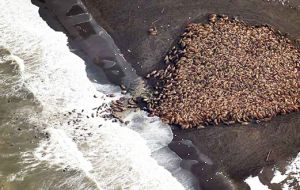 Scientists have photographed the largest gathering of Pacific walruses ever recorded, on a beach in northern Alaska, blaming climate change for the estimated 35,000 females and calves huddled beside the Chukchi Sea.
US federal biologists with the National Oceanic and Atmospheric Administration, NOAA, photographed the gathering, known as a haul-out, north of the village of Point Lay over the weekend.
It's hardly the first big walrus gathering to be documented, a fact noted by climate change skeptics. But scientists say the size of the gatherings are growing as climate change melts Arctic sea ice, depriving walruses of their sunning platforms of choice.
"The walruses are hauling out on land in a spectacle that has become all too common in six of the last eight years as a consequence of climate-induced warming," the US Geological Survey wrote on their website.
"Summer sea ice is retreating far north of the shallow continental shelf waters of the Chukchi Sea in U.S. and Russian waters, a condition that did not occur a decade ago," the USGS website says. "To keep up with their normal resting periods between feeding bouts to the seafloor, walruses have simply hauled out onto shore."
As the ocean heats up due to global warming, Arctic sea ice has been locked in a downward spiral. Since the late 1970s, the ice has retreated by 12% per decade, worsening after 2007 according to NASA.
Walruses were first spotted coming ashore in large numbers in 2007. In 2009, an estimated 3,000 walruses were seen; the number rose to 30,000 in 2011 and went back down to 10,000 in 2013.
Scientists have seen large haul-outs on the Russian side of the Bering Strait for quite some time, says Anthony Fischbach, a wildlife biologist at the USGS in Anchorage. But since the first recordings of walrus gatherings in Alaska in the 1870s, groups of this size weren't observed until 2007, he said.
May 2014 represented the third lowest extent of sea ice during that month in the satellite record, according to the National Snow and Ice Data Center.
"Being in Alaska, climate change is very apparent," said Lori Polaesk, a marine biologist at the Alaska SeaLife Center, a research and wildlife rehabilitation facility in Seward. "That's the reason why we have lost summer Arctic ice."