World Cup '94 striker Romario elected Senator in Brazil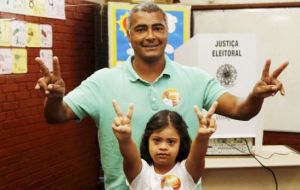 Brazilian striker-turned-politician Romario was elected on Sunday to the senate with 63.4% of the vote for the Rio de Janeiro seat. The 48-year-old former soccer star -- a 1994 World Champion and Socialist Party candidate -- finished well ahead of Democratic Party rival Cesar Maia, who had received 20.5% with 90% of votes counted.
In the 2010 general election Romario was elected a congressman for the Brazilian Socialist Party, PSB.
A fierce critic of the World Cup held in Brazil earlier this year, Romario alleged corruption through over billing on swanky new stadiums.
The former PSV Eindhoven and Barcelona striker also slammed the Brazilian Football Confederation (CBF) as plagued by corruption.
On Sunday he overwhelmed his runner up by taking 4.682.924 votes.