Holdouts insist they want to negotiate with Argentina a solution to bonds dispute
Tuesday, October 7th 2014 - 00:53 UTC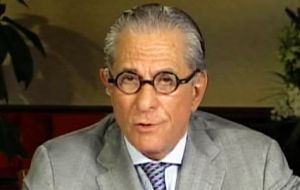 Lawyer Robert Cohen representing NML, the main holdout fund in litigation with Argentina, insisted that his client is prepared and willing "to negotiate" but also questioned the government of President Cristina Fernandez attitude during the court hearings in New York over the restructured debt.
"The interest of my client is to negotiate a solution to the dispute with Argentina", said Cohen in New York, interviewed by Argentine investigative journalist Jorge Lanata and his program "Journalism for All"
Cohen also revealed that NML has requested information in the state of Nevada relative to 123 companies which allegedly could be linked to a money laundering network involving illegal assets, hundreds of millions of dollars, taken from Argentina.
"The judge ordered those companies to supply us with information and witnesses, and we are confident that finally we will come across assets to pay for the holdout bonds", added Cohen who pointed out to the investigative work from Argentine prosecutor Jose Maria Campagnoli and the media.
"We are aware following on that investigation that some companies or persons in the United States could be involved in money laundering, including money that could have been illegally taken from the Argentine government", added Cohen.
"There are 60.000 investors in Argentine sovereign bonds that have a right to be paid, and did not accept the restructuring deals of 2005 and 2010. Those swaps exchanged one dollar for 30 cents, some had no option and had to accept, but 60.000 among which pensioners and even Argentines refused: they paid a dollar, they want a dollar back. That is the same position of my client".
The NML lawyer pointed out that Argentina agreed with the Club of Paris to pay a debt of 9 billion dollars; 5 to 6bn dollars compensation to Repsol; likewise with companies that appealed to the World Bank for hundreds of millions of dollars, but "they simply chose not to reach a deal with holders of the defaulted bonds".
"This has kept Argentina out of the world economy and money markets for too long. If they reached an agreement with my client, and the rest, without asking for more money, but further restructuring debt at lower interest rates, capital would flow back and fast to Argentina to help develop its natural resources, and I dare say even those who nowadays fear how they will be treated", insisted Cohen.
Finally, "I repeat we are willing and want to talk with the Argentine government; they told us they would be sending people to New York to negotiate with us. They did but they never sat to negotiate".