Ebola outbreak threatens Africa with dramatic consequences, says IMF
Wednesday, October 8th 2014 - 03:40 UTC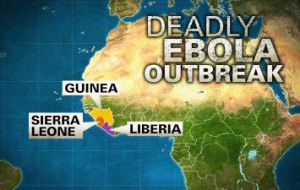 Saharan Africa's economic growth remains strong and should accelerate to 5.8% in 2015 but if the Ebola outbreak in its western corner is protracted or spreads it will have "dramatic consequences" for that zone, the IMF said on Tuesday.
In its latest World Economic Outlook, the IMF said Africa should repeat 2013's growth rate of 5.1% this year and then accelerate in 2015 as infrastructure investments boost efficiency and the service sectors and agriculture flourish.
The 2015 forecast was an improvement on the 5.5% growth for the overall region projected by the IMF in April.
"This overall positive outlook is, however, overshadowed by the dire situation in Guinea, Liberia, and Sierra Leone, where the current Ebola outbreak is exacting a heavy human and economic toll," the report's Sub-Saharan Africa section said.
Since it was detected in Guinea in March, spreading to neighboring Sierra Leone and Liberia, the Ebola epidemic has killed more than 3,400 people and is the world's worst recorded outbreak of the deadly hemorrhagic fever.
The epidemic has overwhelmed the health systems and battered the economies of these three small West African states, which were showing signs of recovering from a decade of interlocking civil wars in the 1990s.
Isolated travelers have also carried the disease to Nigeria, Senegal and the United States, and a Spanish nurse has become the first person to contract Ebola outside of Africa in this outbreak.
"Should the Ebola outbreak become more protracted or spread to more countries, it would have dramatic consequences for economic activity in the west African region," the IMF said.