IMF keeps Uruguay's growth estimate for this year, but lowers 2015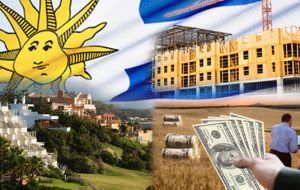 The International Monetary Fund kept Uruguay's growth estimate for this year at 2.8% but lowered the forecast for 2015 to 2.8% from 3%, according to the latest World Economic Outlook. Last year the Uruguayan economy expanded 4% and the government's target for this year is 3%.
Regarding inflation, IMF anticipates 8,8% this year and 8.3% in 2015. In its previous forecast the IMF had established 8.3% and 8%. Last year the consumer prices index climbed 8.52% and the Economy ministry estimates this year's inflation at 8.8%.
Compared to the rest of South America, based on the IMF numbers, Uruguay's increase in prices both in 2014 and 2015 is the highest in the region only behind Venezuela with 60%.
As to the jobs market the IMF kept previous estimates unchanged with unemployment 6.8% this year and 6.9% in 2015.
The IMF also points out to the current account balance which this year is expected to end with a 6.5% of GDP deficit and next year 6.4% deficit.
As with the rest of South America, IMF points out that it is essential to implement structural reforms to facilitate investment and productivity.
"Without reforms growth could be disappointing given the expectations created along the past decade and might put at risk the important social advances achieved", underlines the IMF.