World Bank supports Argentina, favors institutional frame for 'holdouts'
Wednesday, October 8th 2014 - 03:46 UTC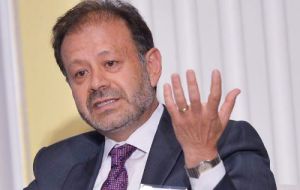 World Bank Chief Economist for Latin America and the Caribbean Augusto De la Torre has said the ongoing conflict between Argentina and holdout creditors is due to the "lack of international debt regulation frames", and favored Argentina's initiative in the UN to "solve the situation."

"As there is no institutional frame to end the conflict, Argentina has to resort to its own creativity to try and find a solution to its financial impasse," he told reporters on Tuesday.

De la Torre said the main problem of a lack of international regulation is that "it lets a minority of bondholders" reject debt restructuring: "This can cause you a big headache," he said.

"I welcome Argentina's initiative in the UN and every way in which these problems can be solved."

The economist's comments follow International Monetary Fund's (IMF) support of a reform towards "orderly sovereign debt restructurings."

On Monday the IMF said it engaged in a number of reforms designed to reduce the costs of sovereign debt restructurings for the benefit of debtors, creditors, and the system in general.