Damon Albarn apologizes to Argentina for Top Gear's offensive behavior
Friday, October 10th 2014 - 04:47 UTC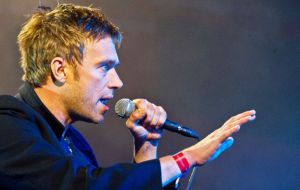 Damon Albarn has apologized to the people of Argentina after Top Gear offended the population with an inappropriate number plate while filming their BBC show in the country. In effect during his set at one Buenos Aires main theatres this week the Blur front-man called To Gear's Jeremy Clarkson a "f****** a*****" over the serious gaffe.
The apology refers to the recent incident with the Top Gear team filming in Argentina with Richard Hammond and James May and because during their time in the country, Clarkson drove a Porsche that had the number plate "H982 FKL".
Locals were left angry because they thought the registration number was in relation to the Falklands war that took place in 1982. Since then, the outspoken presenter has insisted that the number plate was a pure coincidence and that it was changed as soon as someone pointed out the upset it could cause.
Clarkson also recalled how he had to hide "under the beds in a researcher's room with Richard and James because angry protestors had made their way into the hotel to look for them. He added to The Sunday Times: "Twitter was rammed with messages from locals saying they wanted blood. One said they were going to barbecue us and eat the meat".
The Top Gear presenter, who has been at the centre of controversy in the past, also recalled how people attacked the car he was travelling in. Speaking to The Sun, the outspoken presenter said: "I've been to Iraq and Afghanistan, but this was the most terrifying thing I've ever been involved in. There were hundreds of them. They were hurling rocks and bricks at our cars. This is not just some kind of jolly Top Gear jape - this was deadly serious."
Clearly Clarkson, who is known for having an out-spoken nature and a history of racist allegations, didn't convince Alburn that it was just a mistake and the British star took it on himself to apologize for the star, before revealing his feelings for the presenter.
"I want to really apologize for the behavior of a guy called Jeremy Clarkson who does a program called Top Gear", before adding: "He's a f***ing a***hole."
Following Damon's expletive filled statement, cheers could be heard coming from the audience.
The BBC Top Gear had to be escorted by an Argentine police convoy in Tierra del Fuego until they reached Chile safely.
However because the vehicles were left behind, Argentine prosecutors are looking into the matter since in effect, a primary search has revealed that the Top Gear team had several different number plates, apparently used and changed at discretion, which in Argentina is considered a serious crime.