Industrial activity in Argentina down 2.9% in eight months of the year
Friday, October 10th 2014 - 05:30 UTC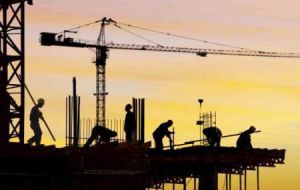 Industrial activity in Argentina dropped 4.9% during August compared to the same month a year ago, reported the Argentine Industrial Union (UIA), the country's most influential manufacturers' lobby. This represents its sixth straight fall and a 2,9% decline for the first eight months of 2014.
According to the data, manufacturing showed a drop of 5.2% compared with July's data.
"Industrial activity presented a new fall in the inter-annual period, the sixth straight fall, and to a great extent because of the strong contraction which continues in the auto industry (34.5%)" said the UIA report.
However the report also warns that "with the exception of a few sectors, the stagnation and fall in the level of activity is widely extended".
Non-metal minerals which include several areas related with the construction sector, and which had a positive performance during most of 2013, also slid retracting 12.6% over the last twelve months, under the influence of the downward trend within construction materials sales.
The basic metals industry which is the group with the best performance in the eight months of the year, have contracted 2.6% in the last twelve months, mostly because the comparison base is not so low as in the first half.
"Oil refining presented an inter-annual contraction of the same intensity. While the group of chemical substances and products showed an increase of 5.8% in the last twelve months, again explained because of a low basis comparison in 2013"
During August Argentine exports totaled 4.492 million dollars during August which is 13% lower than the same month a year ago, while imports added to 5.7bn dollars with a 20% descent.