WB tribunal rules Venezuela must pay ExxonMobil 1.6bn dollars for 2007 nationalization
Friday, October 10th 2014 - 05:34 UTC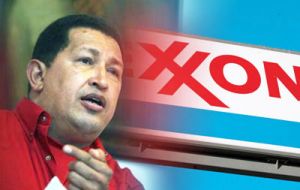 A World Bank arbitration tribunal has determined Venezuela must pay ExxonMobil Corp. around 1.6 billion dollars to compensate for a 2007 nationalization, the award posted on the ICSID website on Thursday showed.
The award is far below the amount of up to 10 billion Exxon had originally sought and also the 6 billion at which the International Center for Settlement of Investment Disputes (ICSID) capped the case, excluding a tax claim.
A separate decision by the Paris-based ICC in 2012 ordered Venezuela state oil company PDVSA pay Exxon 908 million dollars.
There will be no double compensation for the nationalization of the large heavy crude project in the Orinoco region, the tribunal added.
"The Tribunal takes note in both cases of the Claimants' representation that, in the event of favorable award, the Claimants are willing to make the required reimbursements to PDVSA. Double recovery will thus be avoided," the ICSID award said.
Still, the decision comes at a bad time for cash-strapped Venezuela, which is already struggling with an economy widely seen as in recession, rampant inflation, and looming bond payments.
Venezuela has the option of seeking to annul the decision.
It is unlikely the award will be nullified, but the move would likely buy Venezuela some time and potentially allow for parallel negotiations.
Exxon, the world's largest publicly-traded oil company, said separately that the decision shows Venezuela "failed to provide fair compensation."
The ICSID decision is in compensation for the expropriation of the Cerro Negro project, the La Ceiba project, as well as "production and export curtailments" imposed on the Cerro Negro development in 2006 and 2007.
Each party will cover its own costs and counsel fees, the decision reads. The tribunal said it had no jurisdiction over "the claim arising out of the increase in the income tax rate for the participants to the Cerro Negro Project."
Exxon's projects were taken over during the populist administration of deceased former President Hugo Chavez, who led a wave of nationalizations that included the oil, electricity and steel industries.
Many of the companies deemed the takeovers unlawful expropriations, and Venezuela is facing more than 20 cases arbitration cases over the nationalizations.