Morales confident he will win Sunday's election in all nine Bolivian districts
Saturday, October 11th 2014 - 03:22 UTC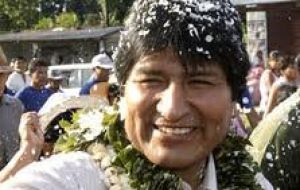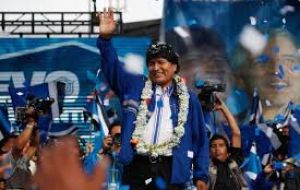 At an event to mark the closing of his campaign ahead of Sunday's elections, a self-assured Evo Morales told Bolivians that he will win all over the country and will even take the opposition's bastions of support in the east.
Polls show Morales taking close to 60% of the votes nationwide and even managing to win in the departments of Santa Cruz, Beni, Tarija and Pando, traditionally the rightist opposition's strongholds.
Meanwhile, the two main opposition candidates predicted that Sunday votes could bring "surprises." Cement tycoon Samuel Doria Medina — who has between 13 and 18% of the votes, depending on the poll — said he would retain Santa Cruz for the opposition. Conservative candidate Jorge "Tuto" Quiroga, who has 9% of vote intentions, said he would shock everybody and finish in second place, like Aécio Neves did in Brazil.
"Bolivia is now united, the so-called 'half-moon' (the opposition's bastion of support in the east) has now become a full moon. We've all joined together," Morales said before a massive crowd that gathered in El Alto, outside La Paz.
He admitted that, during the campaign, he prioritized the Bolivian east, the region where he lost in 2009 elections although he was re-elected at a national level. He said that this time he will win in all nine Bolivian departments.
He also said that the model "of (US) political dominance to steal us economically" has come to an end and that Bolivia "is better off without a US ambassador and without the DEA (the US's anti-drug agency)."
Before the start of the electoral on Thursday night he said on a radio show that his "dream is for no Bolivian children to suffer like little Evo did in Orinoca," his home town. He also highlighted that poverty was reduced from 38.2% when he took office, to 18% in 2013.
Meanwhile, Doria Medina — who has allied himself to the rightist governor of Santa Cruz, Rubén Costas — said at the closing of his campaign that he is going to give the government a "beating" in Sunday's elections, while Costa underlined that the ruling "MAS never beat us in Santa Cruz." He vowed to work on maintaining "autonomy," a key demand of the opposition during a 2008 conflict with the national government.
Jorge "Tuto" Quiroga, from the Christian Democratic Party, closed his campaign with a rally in La Paz and a televised message in which he said that he would "surprise Bolivia on Sunday."
"We are facing the most powerful government in the history of Bolivia and also the mega-businessman," he said in reference to Doria Medina. He said that the cement tycoon "has a lot of money but not people's affection."
Doria Medina said he wouldn't respond to Quiroga because his rival "is Evo Morales."
Another opposition candidate, Juan del Granado, also closed his campaign with two rallies in Santa Cruz and Cochabamba. The former MAS ally, who's now running in representation of the No Fear Movement, accused Morales of turning into a "neoliberal."
Dissident indigenous leader Fernando Vargas, meanwhile, ended his campaign modestly, saying that he aspires to win eight deputies and two senators in Sunday's elections. He has around one percent of vote intentions.