Neves pledges a deep reform of Mercosur and opening to the world, if he wins
Monday, October 13th 2014 - 00:20 UTC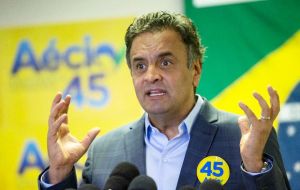 Deep reforms and opening Mercosur to the world will be proposed by opposition candidate Aecio Neves to the other full members, if finally he is elected to lead Brazil in the 26 October runoff against president Dilma Rousseff, said Rubens Barbosa a trade expert, former ambassador in the US and currently coordinator of the opposition government program.
"Neves will not accept other members ignoring the rules and regulations of Mercosur, but all reforms will be in dialogue and consultation with members and neighbors", said Barbosa.
"If Aecio wins the runoff, Brazil will dialogue with its partners, because Brazil wants a deep reform of the block, an important review of all those issues related to trade", insisted trade expert Barbosa.
He added that a government of Neves will not accept any of its members ignoring rules, regulations and deadlines of the Mercosur treaty, or keeping the block isolated "as is the case nowadays".
Barbosa said that Neves is a man of dialogue, "but we are not going to accept what has happened in recent years which has paralyzed Mercosur, isolated it from trade negotiations and Brazil tied to the consensus clause, unable to negotiate with third parties. The ideal is for Mercosur to negotiate jointly".
For the current government of president Dilma Rousseff, (and its predecessor Lula da Silva) Mercosur has been a foreign policy priority despite its difficulties with some of its fellow members such as Argentina, which has frustrated the opening of the block and delayed the cooperation and trade agreement with the European Union. Negotiations with the EU took off in 1999.
The policy of Lula da Silva and Rousseff, and their foreign affairs advisor Marco Aurelio Garcia has been to consolidate Brazil's influence in South America, and the Caribbean, even if this meant leaving aside other global trade options. Besides a significant sector of the manufacturing lobby in Brazil prefers to keep control of its domestic market and limit foreign competition.
Neves is aligned with the other group which favors opening to the world, less government intervention, greater emphasis from the private sector and ensuring direct long term foreign investment.