Argentine delegation after trade and investors in India
Wednesday, October 15th 2014 - 10:31 UTC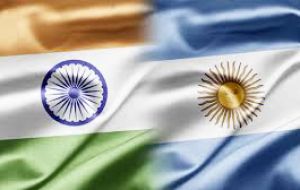 A numerous Argentine delegation will be attending this week trade and investment conferences in New Delhi as part of the country's efforts to increase exports to the growing Indian market and attract investors.
A total of 47 Argentine companies from different sectors such as food, technology, farm machinery, renewable energy, bio-technology, bio-fuels, pharmaceutical and software make up the visiting delegation that is scheduled to begin contacts this Wednesday.
According to Argentine sources 120 business meetings at company and sector levels have been scheduled with Indian counterparts and some of the host country's largest corporations.
On Thursday there will be another round of contacts sponsored by India's Federation of Commerce and Industry Chambers, with an estimated 400 appointments confirmed.
The Argentine business delegation together with foreign ministry officials will also be participating in a two-day "Investment Round India/Latin America and the Caribbean" where investment opportunities and conditions will be presented to potential Indian corporations and business people.
The meeting is organized by "Invest India", which promotes investment in India and overseas for Indian corporations. Other Latin American and Caribbean countries representatives are also expected to attend.
Trade between India and Argentina has doubled since 2009 and in 2013 reached, 1.9bn dollars with a strong surplus for Argentina. Indian companies during 2012/13 invested 25bn dollars in Latin America. Currently 14 Indian corporations operate in Argentina, according to official data from the Foreign Affairs ministry.