Ebola scare reaches cruise industry: Carnival vessel barred from Mexico and Belize
Saturday, October 18th 2014 - 08:13 UTC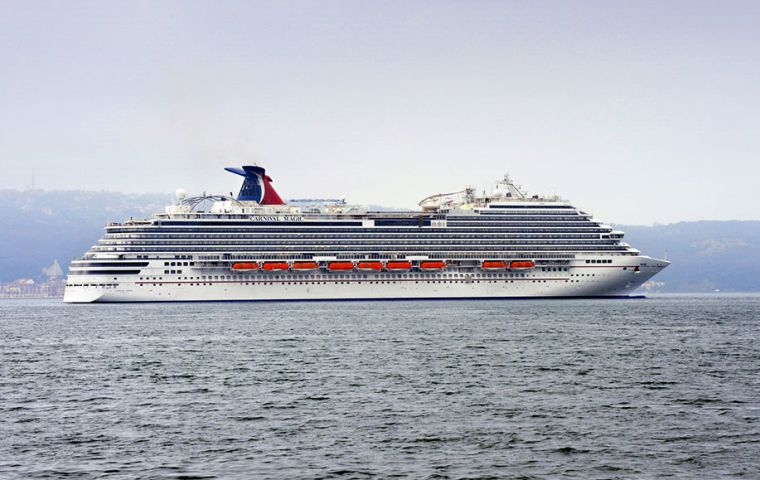 A laboratory technician from the Dallas hospital where a Liberian died of the Ebola virus, and who handled some of his fluid samples for analysis, has been placed in quarantine aboard a cruise ship, the State Department said on Friday.
"The employee did not have direct contact with the since deceased Ebola patient, but may have had contact with clinical specimens collected from him," State Department spokeswoman Jen Psaki said in a communiqué.
The Carnival Magic, which authorities in Mexico and Belize have barred from their ports, is now headed back to Texas.
From Mexico an official said that the person in isolation is a woman who shows no symptoms of the disease.
Psaki said that "the individual was out of the country before being notified of CDC's updated requirements for active monitoring."
The person had already left the United States when the Centers for Disease Control and Prevention, or CDC, increased security measures for medical workers. When the individual left on the cruise ship on Oct. 12, the CDC only required that employees monitor themselves for any symptoms that might arise.
"The employee has been self-monitoring, including daily temperature checks, since October 6, and has not had a fever or demonstrated any symptoms of illness. It has been 19 days since the passenger may have processed the since deceased patient's fluid samples," the spokeswoman said.
Psaki said the cruise line "has actively supported CDC's efforts to speak with the individual, whom the cruise ship's medical doctor has monitored and confirmed was in good health."
"Following this examination, the hospital employee and traveling partner have voluntarily remained isolated in a cabin," Psaki said, adding that the authorities are working to bring them safely back to the United States "out of an abundance of caution."
The first case of Ebola to be diagnosed on American soil was the Liberian citizen Thomas Eric Duncan, who contracted the virus in his own West African country and was treated at the Texas Health Presbyterian Hospital in Dallas, where he died of the disease on Oct. 8.
Two nurses who were in contact with him have contracted the virus and are currently receiving an experimental treatment at two other U.S. medical centers.