Dilma admits Petrobras funds were illegally diverted to finance political parties
Monday, October 20th 2014 - 08:17 UTC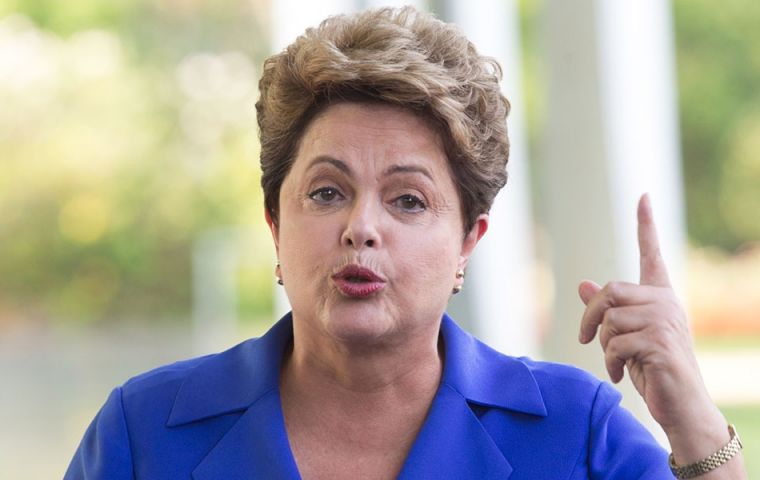 Brazilian President and candidate for reelection Dilma Rousseff admitted that funds were illegally diverted at the state-run oil firm Petrobras, allegedly to benefit political parties allied with the government, and she promised to seek reimbursement of that money.
"If there was diversion, we want (the money) back," Rousseff said at a press conference at Alvorada Palace, the presidential residence, in Brasilia, where she was resting after cancelling political campaign events.
Rousseff, who on Oct. 26 will face off in a presidential runoff with opposition candidate Aecio Neves, said that she will take "all measures to return everything," although she added that without a judicial ruling "nobody knows today what must be reimbursed."
A corruption scandal at Petrobras has been marring the electoral campaign in Brazil and has been one of the most-discussed issues in the presidential campaign debates so far.
According to the investigation into the matter, 3% of the budget for Petrobras contracts was diverted to finance the election campaigns of political parties allied with the government, including Rousseff's Workers Party, or PT.
The whistleblowers, who are telling the judiciary all they know about the illegal activities in exchange for reductions in their own sentences, include the former supply director of Petrobras, Paulo Roberto Costa, and businessman Alberto Youssef, the owner of an exchange house that allegedly handled the funds.
Despite the fact that the opposition has been using the scandal to attack Rousseff, Costa recently said that late Sen. Sergio Guerra, who was the president of the Brazilian Social Democratic Party, or PSDB, of Neves, received "commissions" as part of the diversion of funds.
Guerra allegedly received money -said Costa- in exchange for the opposition halting its efforts to create a parliamentary investigative commission to analyze the complaints against Petrobras.
On Friday, Petrobras announced that it had created internal commissions to verify whether or not deeds connected with the scandal were committed that harm the firm, saying that it, too, would seek to have any diverted funds reimbursed.
In the Oct. 5 electoral first round, Rousseff garnered 41.5% of the votes to Neves' 33.5%, but recent voter opinion surveys show the pair are technically neck and neck for the runoff.