"Criminal negligence" in the crash at Moscow airport that killed Total's CEO
Wednesday, October 22nd 2014 - 08:14 UTC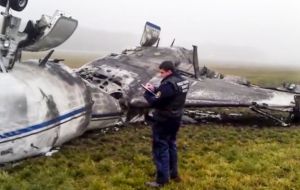 Russian investigators have said "criminal negligence" caused the crash at a Moscow airport that resulted in the death of Total's chief executive. Christophe de Margerie died along with three crew members when his corporate jet collided with a snow plough.

Federal investigators said the driver of the snow plough was drunk, and managers at the airport "negligent".

Mr. Margerie, who had headed French firm Total since 2007, was once of the oil industries most recognizable leaders.

The Investigations Committee of Russia, a federal agency which answers to President Vladimir Putin, is investigating the crash.

"It is already obvious that the cause of the events was not at all a horrific tragic confluence of circumstances, which is how representatives of the airport are trying to present it, but criminal negligence by officials who could not ensure the coordinated actions of airport employees," said committee spokesman Vladimir Markin.

Several officials at the airport were likely to be suspended, according to Mr Markin, and the role of air traffic controllers is also being assessed.

The crash occurred at close to midnight local time on Monday at Moscow's Vnukovo International Airport - located south-west of the Russian capital, and used by President Putin, government officials and visiting dignitaries.

Mr. de Margerie's jet had been due to fly to Paris after a meeting with Russian Prime Minister Dmitry Medvedev at his country residence outside Moscow to discuss foreign investment in Russia, according to Russia's Vedomosti newspaper.

Russia's transport regulator is also investigating the crash, which it said happened in "bad visibility" at close to midnight local time on Monday.

It had been snowing earlier in the day, but it was unclear how much snow was present at the time of the crash. Pictures from the scene show the driver of the snow plough looking shocked, but walking unaided and without any obvious serious injury.

Mr. de Margerie, 63, had been chief executive of Europe's third largest oil company since 2007. He was highly regarded within the oil industry.

His trademark handlebar earned him the nickname "Big Moustache", and his was one of the most recognizable faces of the global oil industry.

More recently, he had become an outspoken critic of European sanctions against Russia, arguing that such actions would simply push Russia closer to China.

Total is one of the biggest foreign investors in Russia and is planning to double its output from the country by 2020. The oil giant is France's second biggest listed company. It is not clear who will take over as Total's boss, but the company has announced that a board meeting will be held as soon as possible.

A statement from the office of French President Francois Hollande said: "Christophe de Margerie dedicated his life to French industry and to building up the Total group. He made it into one of the very top global companies

"Francois Hollande cherished Christophe de Margerie's independent character, original personality and his devotion to his country".