Falklands' Noble Energy elected David Stover as president and CEO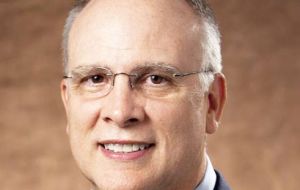 Noble Energy, Inc., which is involved in Falkland Islands hydrocarbons exploration and confirmed its interest in the South Atlantic potential, said on Tuesday that its Board of Directors has elected David Stover as President and Chief Executive Officer, succeeding Charles Davidson as CEO.
Stover's election is consistent with the management succession plan disclosed in April when it was announced that Davidson would be retiring on May 1, 2015. Stover has previously been serving as the company's President and Chief Operating Officer.
Davidson will continue to serve as the company's Chairman until the 2015 Annual Meeting at which time he will be leaving the Board of Directors.
The company also said its board plans to elect Stover as Chairman of the Board immediately following the 2015 Annual Meeting.
Additionally, Noble Energy said that Susan Cunningham has been elected Executive Vice President responsible for the company's global Exploration, New Ventures, Frontier, Environmental, Health, Safety, Regulatory and Business Innovation activities. In addition, Gary Willingham has been elected Executive Vice President responsible for Noble Energy's global Production, Drilling, Major Projects and Supply Chain activities.
Noble Energy recently updated its exploration drilling status in the Falkland Islands and plans on resuming drilling activities in the region by mid-2015, after it completed the acquisition and evaluation of a 3D seismic program over the 10 million acreage of the area, in which it holds a 35% offshore working interest license.
The project has been named as "Humpback". The success of Humpback's drilling results will most definitely lead to the drilling of a second exploratory well in the region, for which the company is already working on finalizing the prospective locations. The drilling for the second well is scheduled for late 2015.
According to estimates, the resource potential of these projects amounts to approximately 1 billion barrels of oil equivalent. The Scotia well, which was drilled in 2012, has been deemed non-commercial after it was evaluated according to the 3D seismic data.