Falklands' government releases the 2014 Statistical Yearbook
Friday, October 24th 2014 - 05:20 UTC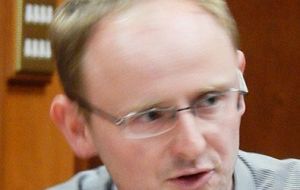 The Falkland Islands Government has announced the publication of the Statistical Yearbook 2014. The Yearbook is the culmination of several months of work by the Policy Unit and serves as an almanac of Falkland Islands facts and figures.
MLA Michael Poole, Portfolio-holder for Policy & Public Relations, has welcomed the Yearbook described it as a brilliant piece of work "which accurately shows the Falkland Islands in facts, figures and numbers, and will be an invaluable tool for anyone wishing to learn more about the Islands. I'm grateful to the Policy Unit, and to Statistics & Performance Officer, Jay Gamble, for the effort he has put into compiling the Yearbook."
Jay Gamble extended his gratitude to all of the FIG departments and FIG officers who had helped to compile the information included in the Yearbook.
The graphic design of the booklet, including info-graphics of some of the key economic data, was provided by local designer, Saul Zuvic, of Stone River Creative Design.
Hard copies of the Statistical Yearbook are available from the Policy Unit at the Secretariat, by emailing policy@sec.gov.fk , or a compressed version (without the info-graphics) is available at: Statistical Yearbook 2014
The Statistical Yearbook should be available to download by clicking this link: FIG Statistical Yearbook 2014 without info-graphics [8.4MB, PDF]