Uruguayan candidates end campaigns with their minds on a November runoff
Friday, October 24th 2014 - 07:19 UTC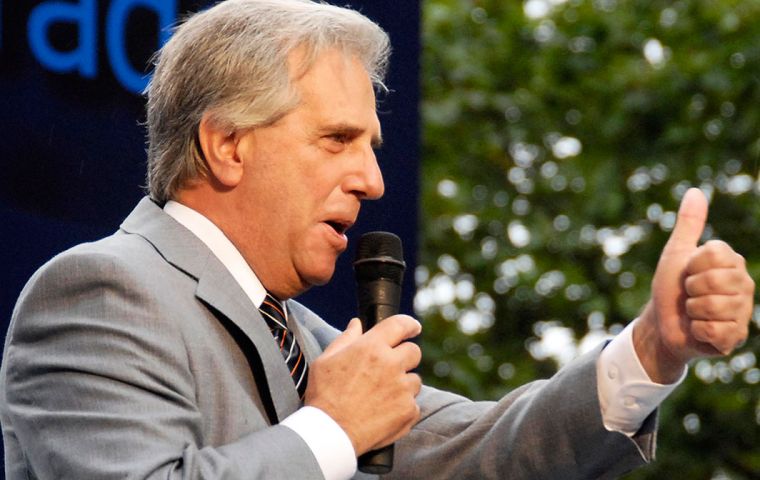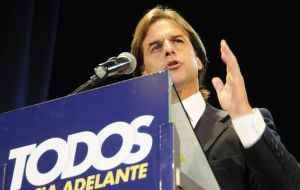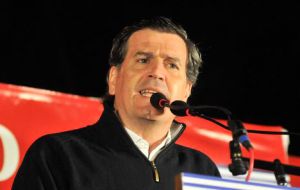 The three main presidential candidates for Uruguay's Sunday 26 October election closed their campaigns on Thursday evening with three huge political rallies that gathered thousands of militants and put an end to months of travel, speeches, flesh pressing and baby kissing, in what could prove to be the tightest race in recent years.
Under Uruguayan law as of Friday a 48 hour ban on all political activity becomes effective which includes the release of opinion polls or any other party related news. The ban actually extends until Sunday evening when the voting booths are closed. On Election Day there is also a ban on the sale of alcohol.
The incumbent candidate Tabare Vazquez, and who according to all opinion polls leads in vote intention (42%), made a strong appeal to all militants from the ruling Broad Front coalition to vote on Sunday and quoted verses from some local poets to thank all that "human sea" that turned out to the campaign's closing rally.
Speaking from a park by the sea front, Vazquez invited militants to defend "joy and happiness" which was brought by the two consecutive governments of the Broad Front, and protect those achievements "from chaos and nightmares" of the past, and insisted that "our goal is at the reach of hand".
Addressing the younger generations who did not live under previous administrations, Vazquez said: "talk to your parents and grandparents so they can tell you life conditions of Uruguayans before the Broad Front reached government: children fed on grass and pensioners were the victims of fiscal adjustments".
Further on Vazquez promised a more humane development based in values and pledged a "quality public education", and insisted that despite what the opinion polls are saying "the Broad Frond will be the winner and with a majority in parliament".
Education, health and particularly crime and insecurity were the intense controversial issues of the campaign because of the poor quality of teaching results and the fact teachers' unions have virtually taken over schools; healthcare despite having been made universal has become chaotic with months' delays for specialists, and even worse, soaring criminal activity with repeated and shocking drug-related killing episodes in a society which is not accustomed to such degree of violence.
Precisely one of the campaign issues, with a referendum vote on Sunday, is lowering the criminal age responsibility from 18 to 16, which the ruling Broad Front rejects arguing it's against teenagers' human rights, and most of the opposition supports because what matters are "the rights of the victims and the destroyed families".
The rally ended with Vazquez and his presidential ticket companion Raul Sendic on stage next to some of the most relevant figures of the Broad Front as the party's chairwoman Monica Xavier and the mayor of Montevideo, Ana Olivera.
Thirty kilometers away in the second most important electoral district of Uruguay, Canelones in the city of Las Piedra, and which can make a difference on Sunday, the main opposition candidate Luis Lacalle Pou and the National party celebrated their campaign closing rally with thousands of supporters singing and cheering.
"From the evening of next 26 I will cease to be exclusively the candidate of the National party", said Lacalle Pou to the cheering crowd, adding that "on Sunday we will again have to get accustomed to the fact that the electorate will not give a majority to one color or one party, and will force us politicians to talk and discuss", because "we will be representing the social majorities" made up of National party supporters and other citizens.
"As of Sunday we will have to walk and meet what is different but to look for coincidences and let me tell you, agreements will be the norm and conflict the exception", emphasized Lacalle Pou, who according to the latest opinion polls has a vote intention above 32%.
And emphasizing to his militants that the next stage if for all Uruguayans together, "if we really understand what the National party is and stands for, the Uruguayan flag must be enshrined".
Next to his wife Lorena and his running mate Jorge Larrañaga and wife plus other local leaders Lacalle Pou pointed out what has been the success of his campaign and that is "the positive attitude"; "and with peace of soul I can say I'm glad to have kept to it. They pushed us and our positive attitude to the edge of the cliff, but they missed because we want to unite, we want people together, we're for love and tolerance, not for insults or attacks".
Finally is a brief synthesis of his ideas on security, healthcare and education and with the declared goal of benefitting the most disadvantaged, Lacalle Pou underlined that when "management and performance are poor, you simply generate great gaps between the rich and the poor".
Back in Montevideo and a few kilometers from where the Broad Front held their final rally, the junior opposition Colorado party and presidential candidate Pedro Bordaberry celebrated the end of the campaign with a significant turnout, full of music and dancing despite opinion polls indicate that they are a distant third with 18% vote intention.
"We felt all along that as we were taking off, they were pulling us down" said Bordaberry in clear reference to the opinion polls which for months had him real down and frozen, and only lately admitted the Colorado party could climb to 20%.
Bordaberry who was the sponsor of Sunday's criminal responsibility referendum insisted on his idea that it's victims and law abiding citizens that must be protected, and teenagers involved in criminal acts sent to proper reform schools and not simply locked up in minors' jails.
The rally was accompanied all along by trendy music and themes used while campaigning crisscrossing the country. The music and enthusiasm of militants had Bordaberry and his ticket companion German Coutinho dancing on stage next to other leaders.
"It's tough but not impossible" to make it on Sunday said Coutinho, who thanked the attendance in first line of Rodolfo Suarez the father of Uruguay's most famous soccer striker Luis Suarez now playing for Barcelona.
"He's come all the way from the north to be with us", said Coutinho who is the mayor of Salto from where the Suarez family comes.
Bordaberry with a sore throat and evidence of fatigue recalled that the Colorado candidates didn't have "an easy campaign", but rather a 'strange campaign". In effect, "when we felt we were taking off and climbing, they were pulling us down".
But this had a limited effect because "every town we visited in the Pedro-bus people turned out to encourage us cheering and telling us 'keep on fighting Pedro'".
Finally Coutinho said that the campaign and the media exposure had shown that the Colorado party by far had "the best presidential candidate" and that was Pedro Bordaberry. And the candidate on his turn complemented underlining that the "Colorado party in on its feet, alive and fighting".
But speeches were short and candidates and militants preferred to end a brilliant spring night singing and dancing of the stage and the surrounding grounds.
The Colorado party dominated Uruguayan politics for over a century and a half but in 2004 following the 2002 a massive run on the banks, contagion from the Argentine meltdown and default, dropped to junior opposition.
On Sunday if no candidate garners 50% of valid ballots, there will be a run off at the end of November. All opinion polls coincide that there will be a second round and the two contenders, Vazquez and Lacalle Pou. Most probably, a majority of the Colorado party and Bordaberry in that scenario will support Lacalle Pou.