Brazilian economy remains in recession; Central bank survey indicates 0.27% growth this year
Tuesday, October 28th 2014 - 15:27 UTC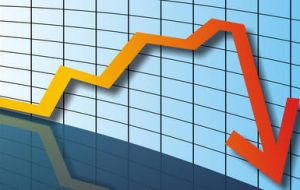 Private sector analysts are maintaining their 2014 growth forecast for Brazil's economy at 0.27%, the Central Bank said on Monday. GDP estimate was included in the Focus review, a weekly Central Bank survey of analysts from about 100 private financial institutions on the state of the national economy.
The analysts also left their 2015 GDP growth estimate of 1% unchanged, the Central Bank said. Analysts surveyed for the Focus review expect the country to end 2014 with an inflation rate of 6.45% and for prices to rise 6.3% in 2015.
The Dilma Rousseff administration has an inflation target of 4.5% for this year, with a 2 percentage point band that allows a top end rate of 6.5%.
The survey was done last Friday, two days before President Dilma Rousseff won re-election.
Brazil's economy, according to government figures, contracted by 0.60% in the April-June period, marking the second consecutive quarter of negative GDP growth and meeting the technical definition of a recession.
However the government expects the economy to grow 0.90% this year, while the Central Bank sees GDP expanding at a 0.60%. Brazil's economy grew just 1% in 2012 and expanded 2.3% last year.