Praise for reelected Dilma and Brazilian election from OAS Insulza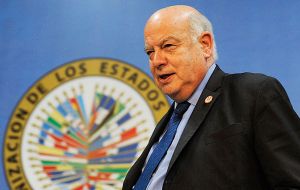 The Organization of American States (OAS) Secretary General, José Miguel Insulza, congratulated Brazilian president Dilma Rousseff, on her victory in Sunday´s election, and highlighted the exemplary character of the electoral process as well as wishing the Brazilian leader success in her new administration.
Insulza expressed great satisfaction "at the conclusion of an intense political campaign, which was uneventful and delivered early results that were accepted by all, thus showing the maturity of the people of Brazil, its political forces and institutions."
The OAS leader placed special emphasis on "the high turnout, the calm during voting, and the civic responsibility shown by all the participants in Sunday´s vote," and added that "given that this is one of the largest democracies in the world, it is an achievement that can only make us all proud, as it shows the strength attained by democratic values in our Hemisphere."
Likewise the Secretary General welcomed the words of the winning candidate, who called for unity among all Brazilians, "because with this President Rousseff expressed the genuine intention of her government to overcome the differences that exist in all electoral processes and her intention to move to the next step, which is to govern for sustainable development and the eradication of poverty".