Francis said that if he speaks for a fairer world, "some people think the Pope is communist"
Wednesday, October 29th 2014 - 06:47 UTC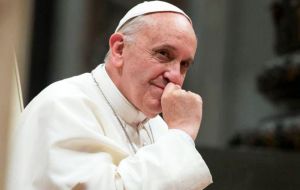 True to his unorthodox style, Francis said some people think he is a "communist" Pope given his constant pledge for a fairer world. The head of the Catholic Church made the statements during the World Meeting of Popular Movements in Rome, attended also by President of Bolivia Evo Morales.
"Land, work, housing; it is strange but if I talk about this for some the Pope is a communist," Francis said highlighting that instead "the love for the poor is at the centre of the Gospel and of the social doctrine of the Church."
The meeting, the pontiff added, responds not to an "ideology".
"You don't work with ideas; you work with realities (…). You have your feet in the mud and the hands in the flesh. You smell to neighborhood, to people, to struggle! We want your voice to be heard which, in general, it is heard (only) a bit," the Argentine pope told the attendants to the gathering.
The successor of Pope Emeritus Benedict XVI accused the "hypocrites" who address the "scandal of poverty promoting strategies of contention that only calm and turn the poor into domesticated and harmless persons."
"You feel that the poor are no longer waiting and want to be protagonists; they organize themselves, study, work, protest and above all they practice that so special solidarity that exists among those who suffer, among the poor and that our civilization seems to have forgotten."
Pope Francis, who shared out among the people attending the meeting rosaries made by craftsmen and popular economy workers from Latin America, renewed his calls for work and land for those in need.
"Let's say together from our heart: No family without a home! No peasant without land! No worker without rights! No person without dignity that work gives."