President Santos receives Prince Charles and Camilla at the Nariño Palace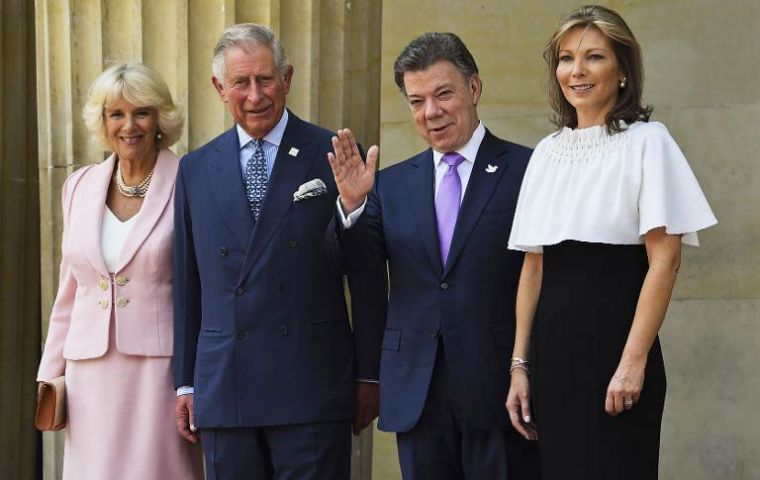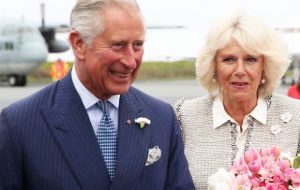 Prince Charles and his wife Camilla were welcomed to Colombia with military honors on Wednesday, at a ceremony led by the president Juan Manuel Santos to mark the couple's first royal visit to the country.
The royal couples arrived in Bogota on Tuesday and were met by Foreign minister Maria Angela Holguin, the British ambassador in the country, Lindsay Croisdale-Appleby, and Colombia military commander Colonel Mauricio Arciniegas.
President Santos welcomed Britain's heir to the throne and the Duchess of Cornwall at his private residence. The ceremony was also attended by First Lady Maria Clemencia Rodriguez and several other high-ranking officials, including minister Holguin.
This is the first time that the heir to the British throne has visited Colombia. The last official visit by a U.K royal was made by Princess Anne in 1997.
Charles met with Santos behind closed doors and was later scheduled to attend a celebration marking the 75th anniversary of the British Council in Bogota later in the day. Santos will host an official banquet at his lavish Nariño palace in the evening.
The royal couple will attend a "ceremony for peace and reconciliation" on Thursday to commemorate the victims of more than 50 years of fighting in Colombia that has killed at least 220,000 and displaced five million people.
They will also tour the Macarena national park and visit the northern city of Cartagena de Indias during their visit, which officially ends on Friday. The couple leaves for Mexico on Sunday for the final leg of the Latin American nine-day tour.
The visit was at the request of the British government, following invitations from the presidents of both countries. Charles, 65, visited Colombia in 1974 as a naval officer, while he has visited Mexico four times since 1966.
The British royals' South American tour has been dubbed the "Tequila tour" by the British media.
According to the Colombian media one of the main purposes of Charles and Camilla's trip to South America is to 'strengthen co-operation in the fight against drugs and crime' between UK and foreign agencies.
As part of the tour Prince Charles is expected to be shown some of the equipment and proceeds of crime seized from the powerful drugs cartels – including a compact submarine designed to smuggle cocaine to the US, which was recently confiscated by local authorities.