Argentina approves new hydrocarbons bill to attract foreign investments
Friday, October 31st 2014 - 07:51 UTC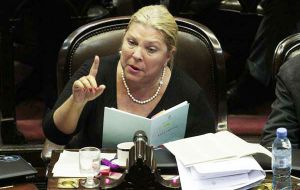 Argentina's lower house of Congress, which is controlled by President Cristina Fernandez's allies, gave final approval Thursday for a new Hydrocarbons Law that was harshly criticized by opposition lawmakers. The lower house passed the bill with a vote of 130-116 with one abstention after more than 14 hours of debate.
The new legislation, which replaces a 1967 law, seeks to promote foreign investment in exploration and production, according to the government. Argentina urgently needs an inflow of funds to develop its massive Vaca Muerta shale oil and gas deposits and lower its hefty energy-import bill.
To promote investment, the legislation institutes changes that restrict the power of Argentina's oil-producing provinces, which, under the constitution, own the nation's oil and gas reserves.
The bill, which was previously passed by the Senate, also lowers the minimum amount that foreign companies must invest to avoid import and foreign-exchange controls from 1 billion to 250 million dollars.
Opposition lawmakers criticized the bill, saying it was tailor-made for state-controlled oil company YPF but detrimental to the interests of Argentina and its oil-producing provinces.
The bill establishes that holders of oil-production concessions must pay 12% royalty to the province where the block is located. For each extension of the concession terms, the provinces will see their royalty take climb by 3 percentage points, up to a ceiling of 18%.
The bill creates standardized rules for companies, which previously had faced a range of regulatory frameworks across Argentina's different oil-producing provinces. It also limits the system, whereby provincial-owned enterprises that hold title to the energy resources have been able to partner with private companies and share in the profits without contributing any capital or in the operations.
Under the new law provincial companies will only be able to participate in the development stage in proportion to their investment contribution.
The legislation also lengthens the terms of production concessions to 25 years for conventional deposits, 35 years for non-conventional, or shale, deposits and 30 years for offshore energy resources.
The provinces will be able to grant extensions every 10 years to companies that meet their investment requirements.