Falklands demining contracts goes to Bactec and Fenix Insight
Friday, October 31st 2014 - 07:04 UTC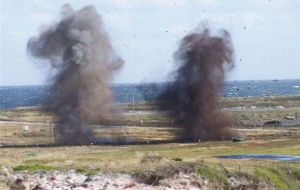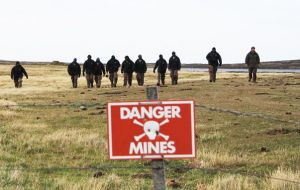 Two companies have been awarded contracts by the UK Foreign Office for the clearance of minefields in the Falkland Islands, dating back to the 1982 conflict when retreating Argentine forces laid antipersonnel and other explosives particularly in a ring surrounding the capital Stanley.
Battle Area Clearance and Training Equipment Consultants (BACTEC) International Limited has been awarded the Land Release contract which will involve surveying suspected hazardous land and removing any contamination while Fenix Insight will deliver the Demining Project Office, providing quality assurance.
Over the two year project, a minimum of 23 mined areas will be cleared, as well as one further area of suspect land which will reduce the number of remaining mined areas in the Falkland Islands from 108 to a maximum of 85.
Commenting on the award, Fenix Insight said "Delighted to report that today Fenix signed a contract with the UK Foreign and Commonwealth Office (FCO) to act as the Falkland Islands Demining Programme Office (DPO) for the next two deployments within the mine clearance program".
Likewise "Congratulations also to BACTEC who signed the contract as Land Release Contractor. This is the fourth phase of work in the Falkland Islands and the fourth time that Fenix (as CKA for the first phase) has been selected to provide the DPO services".
Earlier this year the Falklands Legislative Assembly informed that "in 2013 the third phase of demining work was completed, meaning a total of 974 anti-personnel mines and 600 anti-vehicle mines have now been removed from the Falklands."
The company involved was BACTEC with a team of fifty experts in mine clearance from Zimbabwe with vast experience all over the world.(PN/MP)