Korea's largest shipbuilder announces record losses worse to come
Friday, October 31st 2014 - 06:38 UTC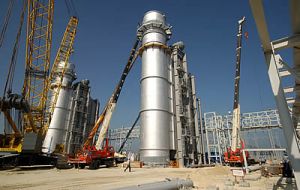 South Korea's Hyundai Heavy Industries Co Ltd, the world's biggest shipbuilder, slid to a record quarterly loss of 1.8 billion dollars and warned it's heading for its worst-ever year as cost overruns mount up in new business lines it developed to counter a global glut of low-margin ship orders.
Hyundai Heavy said on Thursday it slumped to an operating loss of 1.93 trillion won (1.83bn) in the third quarter, from a 222.4 billion won profit a year earlier, as it soaked up rising costs caused by delays in building new types of ship in which it had little previous expertise. It expects an operating loss this year of 3.2 trillion won, its worst on record.
The world's three biggest shipbuilders, all South Korean, have been under pressure as low-margin ship orders won in 2011 and 2012 squeeze profits. But Hyundai Heavy has been hit harder than peers after taking on a raft of orders for vessels, such as those used in the oil and gas industry, which it hadn't previously built.
On Thursday, Hyundai Heavy said it does expect to return to operating profit in the fourth quarter, having accounted for "all predictable causes of losses" in the July-September period.
Hyundai Heavy, historically strong in the container ship field, said in a statement the third-quarter result reflected increased costs run up in constructing ships like semi-submersibles and 50,000-ton refined oil product carriers. Its inexperience in building those vessels have meant construction delays.
The shipbuilder is also seeing increased costs to meet construction deadlines for two power plants in Saudi Arabia: the roughly 3bn Jeddah South, won in 2012, as well as the about 3.2bn Shuqaiq power plant contract won in 2013. Building power plants of that magnitude was another new business for Hyundai Heavy.
The third-quarter loss at Hyundai Heavy, coming on top of its previous record loss of 1.1 trillion won in the second quarter, are in stark contrast to brighter times at Samsung Heavy Industries Co., the world's no.2 shipbuilder by output of ships measured by tonnage in 2013.
Earlier this month Samsung Heavy reported an operating profit of 181.5 billion won in the third quarter. That was Samsung Heavy's second-straight quarterly profit since it set aside about 500 billion won during the first quarter for losses expected on offshore structure projects.
Since Hyundai Heavy reported second-quarter results in July, its share price has dropped about 40% as of Thursday's close, before the latest earnings were released. Over the same period, Samsung Heavy shares have fallen 10.6%, while the benchmark KOSPI is down about 5%. Hyundai Heavy shares closed 5.2% lower in Thursday's trade, while Samsung Heavy's shares edged down 0.4%.