BBC refuses to make apology about Top Gear row in Argentina
Saturday, November 1st 2014 - 04:08 UTC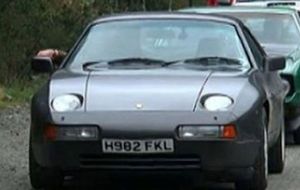 The BBC has refused to apologize to Argentina over a Top Gear special filmed in the country. The show's stars and crew had to abandon filming last month amid angry protests over a car number-plate that appeared to refer to the Falkland Islands War.
Argentine ambassador Alicia Castro met BBC Director of Television Danny Cohen this month to demand a formal apology. In a letter to Ms Castro that has been made public, Mr. Cohen said the BBC would still broadcast the program.
He said: "I am very aware that some have questioned whether the number-plates were in some way a prank.
"I would like to reassure you again that nothing we have seen or read since the team returned supports the view that this was a deliberate act." However there was no explicit apology.
Top Gear presenter Jeremy Clarkson said he was "shocked" when someone pointed out the link between the number-plate and the Falklands War when they were days into filming.
A Porsche they were using had the registration H982 FKL, which some suggested could refer to the Falklands conflict between the UK and Argentina in 1982.
Top Gear executive producer Andy Wilman has denied that the number-plate was a "stunt".
Mr Cohen said Clarkson, who also writes for two national newspapers, "stands by" the accounts he has provided in his columns.
The Top Gear special saw Clarkson and co-stars Richard Hammond and James May drive the famous Patagonian highway - Route 40 - to the southern city of Ushuaia. Mr Cohen said that when the show is broadcast, the corporation would "ensure that these programs are a fair representation of what took place throughout their stay."
He also said "the BBC was disturbed by the violence the team faced during their visit".
The show's cars had to be abandoned by the roadside and the crew escorted to the airport after being pelted with stones.
It is not the first time the show has met with controversy. Most recently, in July, Ofcom ruled that Top Gear had breached broadcasting rules after Clarkson had used a racial slur during a Top Gear special in Burma. And in the last chapter, while driving in Australia, Clarkson admitted to be driving with beer in a cap.