Argentina and Brazil elected to the UN Economic and Social Council
Monday, November 3rd 2014 - 09:11 UTC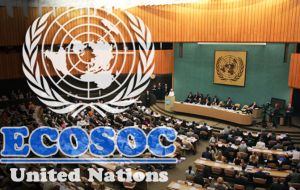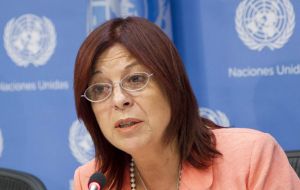 Argentina and Brazil were elected by the United Nations General Assembly as members of the UN Economic and Social Council, ESOCOC for a period of three years beginning next January first. Argentina received 182 out of 186 votes.
A country required two-thirds required majority of 124 to win a seat in the elections. The General Assembly voted to elect 18 members of the Economic and Social Council.
The new members besides Argentina and Brazil are Austria, Burkina Faso, Estonia, France, Germany, Ghana, Greece, Honduras, India, Japan, Mauritania, Pakistan, Portugal, Trinidad and Tobago, Uganda and Zimbabwe.
ECOSOC's 54 members are elected by the General Assembly for overlapping three-year terms. Seats on the Council are allotted based on geographical representation with 14 allocated to African States, 11 to Asian States, six to Eastern European States, 10 to Latin American and Caribbean States, and 13 to Western European and other States.
Each country has a vote and decisions are adopted by simple majority.
Ambassador Martin Sajdik was elected seventieth President of the Economic and Social Council on 14 January 2014. Ambassador Sajdik is currently the Ambassador and Permanent Representative of Austria to the United Nations in New York.
Argentina's ambassador before UN, Marita Perceval thanked the support from other countries in voting for Argentina and said that there is no chance of eliminating global poverty or conflicts' causes which have left 51.3 million refugees "if we don't work together to address those economic models that perpetuate and deepen economic, social and cultural inequality among peoples and countries"
ECOSOC, one of the six main organs of the United Nations established by the UN Charter in 1946, is the principal body for coordination, policy review, policy dialogue and recommendations on economic, social and environmental issues, as well as for implementation of the internationally agreed development goals.
ECOSOC serves as the central mechanism for the activities of the United Nations system and its specialized agencies, and supervises the subsidiary and expert bodies in the economic, social and environmental fields.
ECOSOC has undergone reforms in the last decade to strengthen the Council and its working methods, giving special attention to the integrated and coordinated implementation of, and follow-up to, the outcomes of all major United Nations conferences summits in the economic, social, environmental and related fields.
ECOSOC engages a wide variety of stakeholders – policymakers, parliamentarians, academics, major groups, foundations, business sector representatives and 3,200+ registered non-governmental organizations, in a productive dialogue on sustainable development through a programmatic cycle of meetings.
The work of the Council is guided by an issue-based approach, and there is an annual theme that accompanies each programmatic cycle, ensuring a sustained and focused discussion among multiple stakeholders.