Argentina strips Procter & Gamble of its registration for alleged fiscal fraud
Monday, November 3rd 2014 - 10:37 UTC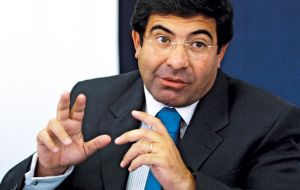 Argentina's tax office has stripped US multinational company Procter & Gamble of its registration for alleged fraud, the office announced on Sunday. The federal tax collection office, known as AFIP, has alleged that P&G evaded paying duties on imports from Brazil, billing through a Swiss subsidiary, in what it called potentially "aggravated contraband."
The company will be able to resume operations in Argentina once it has paid its tax bill and fines. Allegedly the evasion involves import operations totaling 138 million dollars.
"We have got to put an end to multinationals using harmfully plotted out tax maneuvers" that hurt national governments, said tax office chief Ricardo Echegaray.
US-based P&G is a consumer goods corporation that sells more than 300 brands around the world.
AFIP said that it analyzed 2,608 operations to import razors and shaving gear, hair preparations, diapers and other hygienic items and found that "overbilling" had occurred.
In addition, AFIP sent a notice to the U.S. Securities and Exchange Commission via the U.S. Embassy in Buenos Aires detailing the alleged irregularities committed by the multinational.
Moreover, AFIP requested an exchange of information with Switzerland and Brazil and informed the Argentine Central Bank about the alleged irregularities.
"Our main objective is for P&G to return to the Central Bank the diverted funds and pay the customs penalties and the tax on the earnings that was avoided by the price manipulation," said AFIP chief Ricardo Echegaray.
AFIP also asked the judicial system to prevent the top officials with the local P&G affiliate from leaving the country until the multinational's situation is resolved.