Brazil and Uruguay agree to bilateral trade in local currencies
Monday, November 3rd 2014 - 08:59 UTC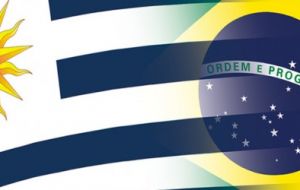 Brazil and Uruguay as of next December will be able to use local currencies in bilateral trade, disregarding appealing to US dollars, based on the agreement signed last Friday between the central bank presidents of the two countries, Alexandre Tombini (Brazil) and Alberto Graña (Uruguay).
The accord signing ceremony took place in Lima, Peru during the XXVIII meeting of South America central bank presidents, held in Lima under the framework of the "Local Currencies Payment System" (SPML), which is a bilateral agreement and enables to make and collect payments in local currencies.
The idea is for the system to be extended to other countries, but the starting point is bilateral.
"Exporters and importers will pay and collect in their respective currencies. Central banks assume no significant credit risk with their counterpart or credit risk with the financial companies", according to the terms of the accord.
The purpose of the initiative is to reduce transaction costs, minimize the time spent in processing operations and facilitate financial inclusion for physical persons and small and medium sized companies.
The money rate exchange for the operations will be published on a daily basis by the central bank of each country and will be "uniform and independent of the transaction volume involved through the SPML system", adds the accord.
The system "is extended to goods, services and expense-related operations, as well as payment of service operations, unilateral transfers such as old age pensions and remittances".
The SPML system operational as of next month was first proposed in Uruguay at the end of 2008 but the country's Exporters Union.