Argentina appeals Judge Griesa's 'contempt of court' ruling
Wednesday, November 5th 2014 - 03:43 UTC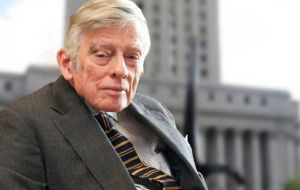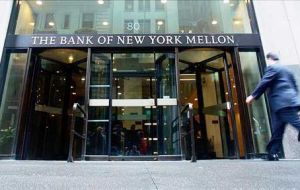 Argentina on Monday asked the Second Circuit Court of Appeals to overturn a federal judge's finding that it is in contempt of court for taking steps to evade his orders that bondholders who agreed to debt restructurings can only be paid if holdout hedge funds are also compensated.
Argentina filed a notice of appeal of the ruling by U.S. District Judge Thomas Griesa in which he found that Argentina's moves to strip the Bank of New York Mellon Corp. as the trustee for the bonds and its plans to replace it with Nacion Fideicomisos SA was illegal, in contempt of court and ordered it must reverse entirely actions.
However Griesa has yet to decide what sanctions should be imposed on the Argentina after in September finding it had taken "illegal" steps to evade his orders. Argentina defaulted in July after refusing to honor court orders to pay 1.33 billion dollars plus interest to U.S. hedge funds suing for full payment on bonds following its earlier 2002 default.
The hedge funds, led by NML and Aurelius Capital Management, had spurned the country's 2005 and 2010 debt restructurings, which resulted in exchanges for about 92 percent of the country's defaulted debt. Investors who exchanged bonds were paid less than 30 cents on the dollar.
Argentina's most recent default came after the U.S. Supreme Court declined to hear Argentina's appeal of a ruling that it must pay the holdouts when it paid holders of the exchanged bonds.
Griesa subsequently blocked Bank of New York Mellon Corp from processing a 539 million dollars interest payment on what the country says is over 28bn in debt. The order sent Argentina on a course to default after no settlement was reached.
Judge Griesa on Monday expanded the power of his Special Master Daniel A. Pollack to take on additional cases in conducting settlement negotiations with plaintiffs and Argentina. Pollack, chosen as mediator in June, is managing partner of the law firm McCarter & English in New York.