Cuba is asking for 8 billion dollars in investment from private corporations
Wednesday, November 5th 2014 - 07:20 UTC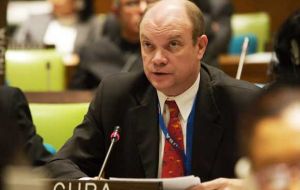 Cuba asked international companies on Monday to invest more than 8 billion dollars in the island as it attempts to kick-start a centrally planned economy starved for cash and hamstrung by inefficiency.
Foreign Commerce Minister Rodrigo Malmierca Díaz announced a list of 246 potential projects that would cost 8.7bn to build, from a pig farm to an auto plant. The menu of possible investments is a key step in a push for foreign capital that includes the relaxation of investment restrictions and the creation of a special trade zone around a new deep-water port west of Havana.
"Cuba is pushing strongly to take advantage of the benefits associated with foreign investment to stimulate development," Malmierca said.
Despite the push, foreigners at Havana's International Fair, the country's main economic promotional event, described Cuba as a place that still makes investors deeply nervous. Many basic supplies are lacking and simple decisions take weeks or months for approval from overlapping government agencies.
The Cuban government remains opaque, refusing to release basic information like current levels of foreign investment. Malmierca argued the figure could be misused by the United States, which maintains an economic embargo on Cuba that the Caribbean country blames for much of its economic misfortune.
Cuba is "in an economic war with the world's primary economic power," he said. "We don't give out that data."
The call for foreign investment is part of a four-year-old reform process meant to energize the economy by introducing private enterprise and foreign capital into a Socialist model characterized by low wages, insufficient investment, crumbling infrastructure and persistent shortages.
The country says it needs to drive foreign investment to more than 2 billion a year to help raise an economic growth rate not expected to exceed one percent this year. It's looking to push growth to five percent annually, but the reform effort appears to have had few results so far. Cuba has yet to announce any foreign investment projects for the Mariel trade zone nearly a year after the port opened with 600 million dollars from Brazil, two-thirds of the project's cost.