Falklands' 1914 German sunken battle ships to be explored by marine archeologist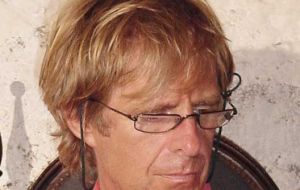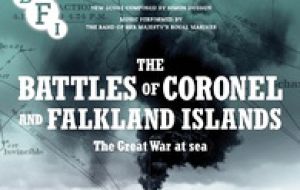 Historian and renowned Marine Archaeologist, Mensun Bound, has been researching the events surrounding the December 2014 Battle of the Falklands and has secured private funding for a once in a life time expedition.
Mensun is making arrangements to explore two of the German vessels, 'Scharnhorst' and 'Gneisenau', that were sunk in Falklands' waters and to share this unique opportunity with the world through a documentary film.
The Falklands 1914 Committee arranging events for Battle Day (8 December) in Stanley have also secured a copy of 'The Battles of Coroneltt and the Falklands (1927)' and the community will have an opportunity to see the film in a public screening.
The silent film which dramatizes the battles was produced in 1927 and has recently been re-mastered, with a new score and screened at the London Film Festival on October 16 and received with rave reviews.
The World War One naval battles of Coronel and the Falklands were considered among the first major losses for both the British and then German navies.
There are no plans for extravagant celebration of British victory; instead the Committee are dedicated to commemorating all those who died in the battle. This focus on the loss of human life was a concept echoed in the 1927 film.
Reviewing the film in London, Pamela Hutchinson of The Guardian said its Director, Walter Summers, was a world war one hero and was impressed that the Royal Navy had lent ships to re -create its stirring scenes. "...even the Germans liked it. Now, a 1927 silent epic of naval warfare is being rereleased" she went on to describe it as the "greatest British war film you've never heard of."
Under the direction of Summers, there are no obvious heroes, just the portrayal of naval integrity and the building of intensity of the chase. It is also noted that Von Spee, rather than the British captain is the one playing for the audience's sympathy as the marked man "doomed to follow his orders until the death".
This honest representation of naval values and the sense of 'doing one's duty for king and country' is possibly why the film was received well by audiences in both Britain and Germany, and why it has stood the test of time as a rediscovered masterpiece. (The FIG tree).-