"Mercosur and Pacific Alliance are not contradictory competing blocks"
Wednesday, November 5th 2014 - 04:06 UTC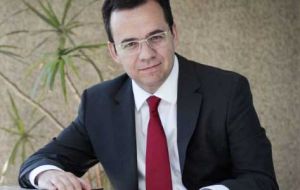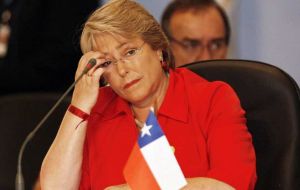 Mercosur and the Pacific Alliance are not contradictory competing blocks, and can advance towards a mutually beneficial convergence, said Chile's Economy minister Luis Felipe Cespedes during a trade and investment promotion seminar in Brazil.
"The two blocks are not contradictory or competing, they are consistent and that is why we are promoting a joint undertaking with the objective of an integration convergence", said Cespedes at the "Brazil-Chile" seminar to increase investments taking place in Sao Paulo.
Last weekend following on a initiative from the Pacific Alliance the foreign ministers of the two blocks (Chile, Peru, Colombia and Mexico) and Mercosur (Argentina, Brazil, Paraguay, Uruguay and Venezuela) held a two-day meeting for a first exchange of ideas which is to be followed at the end of the month, 24 November, hosted by President Michelle Bachelet in Santiago.
The Sao Paulo seminar is organized by the official government agencies ProChile (trade) and CieChile (investments) and private business associations, together with Brazil's Federation of Industries from the State of Sao Paulo, FIESP, is geared to promote bilateral business.
"President Bachelet has proposed a transforming long term agenda in the fields of energy, taxes and educations" for the two blocks, said Cespedes who underlined that the promotion of Chilean goods overseas will also help with "income distribution in Chile".
Brazil is Chile's fourth important trade partner behind China, US and Japan, and together "in association with Brazil there is a great opportunity to continue expanding exports to the Asia-Pacific region".
According to ProChile stats, bilateral trade with Brazil reached 9.3bn dollars in 2013 with 4.8bn Brazilian exports. Chilean sales to Brazil have increased 11% so far this year and for the first time, 56% are non copper products.
"Brazil is a tremendously relevant partner. Chile has a privileged logistics, free trade agreements with 85% of what is produced in the world and an efficient platform to reach international markets", said Cespedes. He added that the innovation and technology development should give Chile a productive leap, particularly in the most important export sector of the country, copper.
"We need investments to develop robotics and technology for mining and not only copper", indicated Cespedes who then pointed out to mining development in Australia.
During the seminar Chilean business leader Jorge Errazuriz strongly defended the Pacific Alliance because "it is specifically economic, not political, born out of the needs of the private sector" in the context of free trade with no tariffs.
"The purpose is to have a free trade area in the whole of Latin America, from Mexico to Chile" said Errazuriz who underlined that two Mercosur members already enjoy observer status at the Pacific Alliance.
"Brazil can have access to the Pacific Alliance through Chile and from there sell to Mexico free of tariffs", suggested Errazuriz who is a member of the Alliance's Business Council.