Republicans take control of the Senate: complicated last two years for Obama
Wednesday, November 5th 2014 - 05:59 UTC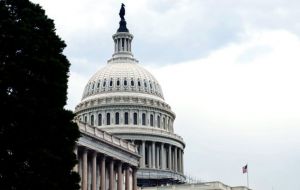 The Republican Party has taken control of the Senate in the US mid-term elections, increasing their power in the final years of President Barack Obama's presidency. After gains in Arkansas, Montana, South Dakota, West Virginia and Colorado, North Carolina clinched victory. Kentucky's Mitch McConnell will become the Senate majority leader.
Voters unhappy with Obama, worried about the economy and weary of partisan gridlock in Washington gave Republicans a majority in both chambers of Congress for the first time since elections in 2006.
Iowa Republican Joni Ernst won her race over Democrat Bruce Braley and Republican Thom Tillis defeated incumbent Democratic Senator Kay Hagan in North Carolina, giving Republicans seven pickups from Democrats. They had needed six net gains to control the 100-member Senate.
Republican Senate candidates also picked up Democratic seats in Montana, Colorado, West Virginia, South Dakota and Arkansas.
The Republican takeover of the Senate in January will force Obama to scale back his legislative agenda and limit his ambitions to either executive actions that do not require legislative approval, or items that might gain bipartisan support, such as trade agreements and tax reform.
But Republicans, hoping to win the White House in 2016, will also be under pressure to show Americans they are capable of governing after drawing scorn a year ago for shutting down the government in a budget fight.
Obama, whose 40% job approval rating weighed down the Democrats, watched election returns from the White House and saw little to warm his spirits, as what had been a comfortable 55-45 Democratic advantage in the Senate quickly melted away.
Tuesday's elections were deciding 36 senators, 36 state governors and all 435 members of the House of Representatives.
President Barack Obama said Senate Democrats faced what could be the toughest races since 1958, when Republicans lost 13 Senate seats under then-President Dwight Eisenhower.
Meanwhile, the TV networks predict the Republicans will keep control of the House, even gaining a number of seats. This could give the Republicans the highest number of House seats since 1947, when Democrat Harry Truman was the U.S. president.