US soybean crushers claim Argentine export taxes distort the market
Thursday, November 6th 2014 - 07:37 UTC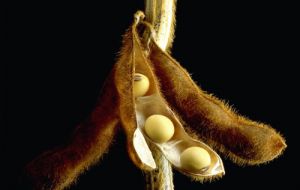 The American Soybean Association, the National Oilseed Processors Association and the North American Export Grain Association sent comments last week to the U.S. Trade Representative identifying significant barriers to U.S. exports, particularly on the trade distorting impact of Argentine Differential Export Taxes, or DETs, and the artificial advantage provided to soybean products exported from that country.
Argentina's system of DETs within the soy sector includes the highest tax rate for raw products like soybeans, lower rates for processed products like soybean meal and oil and the lowest rate for the most processed soy product, soy-based biodiesel. This creates economic incentive for processing the beans in Argentina and exporting the value-added products rather than the raw beans; therefore DETs have distorted the competitive balance among soybean processors globally and have enabled Argentina to become the world's largest exporter of soybean meal and oil.
The groups stated in comments to USTR, that while U.S. exports of soybean products achieved another strong year in 2013, they could be significantly higher and reach a greater global market share, if the U.S. soybean industry did not have to compete with Argentina's DETs.
"Robust exports of soybean and soybean products are critical to the prosperity and profitability of the entire U.S. soybean value chain (biotech companies, seed companies, transportation industries, soybean farmers, oilseed processors and exporters)," the comments state. "Expanded volumes of U.S. soybean exports (especially value-added products such as soybean meal, soy oil and soy biodiesel) translate to an increased number of high-quality U.S. jobs."
The comments also included findings of a 2013 study by the LMC International Report prepared for the U.S. Soybean Export Council and United Soybean Board. According to the study, DETs affect the global balance of crushing capacity because countries can chose to import (or export) either soybeans or their products and as Argentina shifts its exports away from soybeans towards their products, due to the DET advantage, importers and other exporters are forced in the opposite direction.
"The DETs therefore assist crushers in Argentina to the disadvantage of crushers elsewhere. Over a long period they have encouraged additional investment in crushing capacity in Argentina and have tilted exports from the country away from beans towards their products," the groups state. "By exporting more meal and oil than it would have done otherwise, Argentina has altered crushing decisions around the world. This has affect Argentina's competitors (primarily Brazil and the U.S.), as well as countries which import soybeans and their products. This is because such governmental incentives distort normal market signals and competition among crushers."
The groups concluded by urging immediate action to eliminate Argentine's use of DETs on soybeans and soybean products, which ASA believes are inconsistent with WTO obligations and since they've been left unchecked, continue to spread across other agriculture products to countries such as Russia, Ukraine, Malaysia, Indonesia and possibly Uruguay.