Brazilian central bank concerned about 'persistent inflation' reveal minute
Saturday, November 8th 2014 - 10:12 UTC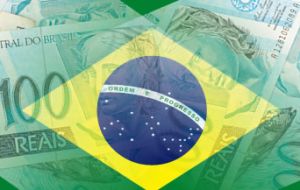 Brazil's Central Bank is concerned about inflation, now running at 6.75%, according to the minutes of last week meeting of the policy committee, released on Thursday.

Monetary policy must remain "particularly vigilant" in the months ahead to prevent "persistent" high inflation, the bank said after raising the benchmark interest rate to 11.25%.

Prices in Brazil are "realigning" with international prices due to the recent decline of the Real against the dollar, which has had a direct impact on inflation, the statement said.

Reinforcing the upward trend in the cost of living is a hike in utility and fuel prices amid a severe drought that is reducing output from hydroelectric plants.

An additional factor "generating inflationary pressures" is the rise in the minimum wage, though to a lesser degree than in the past, the Central Bank said.

Consumer spending and business investment are on the rise, which, along with an expected increase in exports thanks to the depreciation of the Real, creates a "favorable scenario" for economic recovery, the bank said.

Brazil's economy shrank in the first and second quarters of this year, meeting the technical definition of a recession.

The government expects growth of 0.9% for this year as a whole, while the Central Bank forecasts an expansion of 0.6% and private analysts are projecting growth of only 0.24%.