Bank of England expected to raise rates, gradually, after May general election
Sunday, November 9th 2014 - 10:19 UTC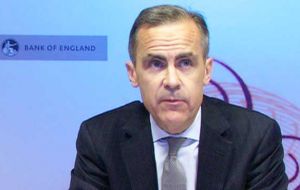 Bank of England interest rates have been left on hold at 0.5% for another month amid fears that the pace of recovery in the UK economy is slowing. The BoE base rate has been at its current level for more than five years, with economists not expecting an increase until next summer.
BoE Governor Mark Carney has said interest rates will be gradual when they do come. This reflects the uncertain global outlook and signs that the UK's recovery is losing momentum, as well as the diminishing threat of inflation.
There was some better news from the UK when it emerged that manufacturing output rose 0.4% in September. But that is still slower than earlier in the year as a strong pound and Euro zone stagnation chokes off export demand.
Two members of the Bank's rate-setting monetary policy committee have voted for a rise since August but have been unable to persuade anyone else on the nine-member body to join them.
Details of the voting this week meeting will be published later this month.
Policymakers had access to the Bank's latest quarterly projections at this week's meeting, with these likely to show that inflation is less of a threat due to falling shop prices and oil market weakness.
London City experts now predict the first rate hike will come next summer, avoiding a politically-sensitive timing clash with the general election in May.