Chilean cruise industry wants to 'catch' 'repeaters' with new options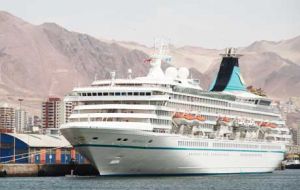 The official 2014/2015 cruise season was recently launched in Chile with the announcement that in the November/April period an estimated 200.000 passengers with 168 vessels calling, will be visiting the country. However in an interesting twist for the industry, Chileans admit that together with the cruise companies they are intent in concentrating efforts in what is called 'repeaters'.
"Since South America does not receive that many 'repeaters' the increase in cruise non-first-time-tourists, together with the companies involved, there is a clear effort to ensure 'fidelity' to their brands by looking for new adventures, new destinations, and that is where Chile and its less explored areas, can play a role", indicates a report from the Chilean tourist office under the heading of "International cruise tourism in Chile".
According to the report most tourists arriving come from North America (US and Canada); Europe (UK and Germany), particularly in the months of January and February. Actually February absorbs a third of all the season's calls.
"Foreigners who decide to visit Chile in a cruise tour are looking for the good climate they don't have at their home countries. Europeans come when their continent begins to cool and the North Americans, besides nice sunny weather, are interested in culture and to learn about different realities", points out Denisse Marin, head of the cruise department at Cocha travels.
Of the arriving cruise passengers, 80% have between 56 and 75 years, while those below 35 are only, 3.5%. They remain in the country on average 4 to 5 hours which they use to make tours and land excursions.
According to the Sernatur report they "are passengers with experience in this type of trips, if we take into account that almost 85% have a previous cruise in some other part of the world, some have up to 7 to 10 cruise trips on average".
Once they land in any of Chile's ports, Valparaíso, Puerto Montt and Punta Arenas on average they spend 85 dollars per capita mainly in the purchase of souvenirs and handicraft, food and drink and two tours contracted on board.
Jaime Guazzini from Gran Patagonia travels underlines the advantages of cruise tourism over other forms of transport: "it's all included, lodging, food, tours in an only room. Tourists don't have to change hotels or be bothered to jump from flight to flight to visit other destinations".