"Nothing and no one can stand in the way of freedom" says Berlin mayor
Monday, November 10th 2014 - 09:08 UTC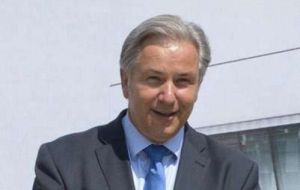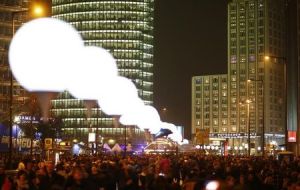 More than a million Germans and people from around the world celebrated on Sunday the 25th anniversary of the fall of the Berlin Wall, the event that more than any other marked the end of the Cold War.

A spectacular 15 kilometer-long string of 7,000 illuminated helium balloons traced the course of the barrier that once snaked through the city, slicing across streets, between families and even through graveyards.

They were set free one after another into the night sky, symbolizing the breaching of the Wall by crowds of protesters in 1989. The Berlin Staatskapelle orchestra played Beethoven's 9th Symphony "Ode to Joy" in front of the Brandenburg Gate.

"We're the happiest people in the world and we're thrilled that you brought the Berlin Wall down 25 years ago," Berlin's Mayor Klaus Wowereit said as the first balloons were sent aloft. "Nothing and no one can stand in the way of freedom."

Germans, whose national pride was shattered by Nazism, the Second World War and the Holocaust, have proudly focused on the peaceful East German revolution that felled the Wall as a rare and bright shining moment in their modern history.

Festivities to mark the anniversary drew more than one million Berliners and tourists to the heart of the once-divided city. Earlier, Peter Gabriel played a powerful rendition of "Heroes" and several German artists performed on stage as well.

Despite the fog and cold, many wandered along the former "death strip" where the Wall stood and where the illuminated helium balloons forming the "Lichtgrenze", or Border of Light, were perched 3.6 meters high on poles matching the height of the barrier built in 1961 by Communist East Germany.

The crowd also cheered when former Soviet leader Mikhail Gorbachev, widely admired in Germany for his role in paving the way for the Wall's collapse, stood and waved. He ominously warned in a speech in Berlin on Saturday that a new Cold War was looming over the Ukraine crisis.