Scotiabank plans to shut 120 branches in Mexico and the Caribbean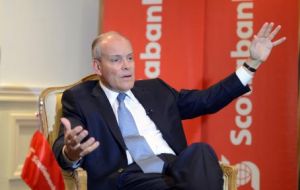 Canada's Scotiabank has announced plans to shut or shrink 120 branches, largely in Mexico and the Caribbean, in a bid to save CAN$120 million (One Canadian dollar =US$0.87 cents) annually. The bank said it would close down 35 of its 200 branches in the Caribbean and would sever 1, 500 full-time employees, including 500 from its international operations.
"In some of these (Caribbean) countries, we are just over-branched and we have to size it to the economic realities of these economies," said Scotiabank chief executive officer, Brian Porter.
Porter said that the bank's revenue growth has been encouraging outside Canada, but profit has not jumped as much he would like.
"The frustration for us across the international footprint is we've had very solid asset growth over the last three or four years, and not all of that has dropped to the bottom line," he said, adding that the bank still has plans to grow in the region.
Scotiabank said the closure of the Caribbean branches were due "to the prolonged economic recovery and continued uncertain outlook" and that it had started restructuring initiatives "in order to improve the speed and quality of service it provides its customers, to reduce costs in a sustainable manner, and to achieve greater operational efficiencies.
"The bank intends to record a restructuring provision of approximately CAN$148 million in the fourth quarter. The majority of the restructuring provision relates to employee severance charges in the bank's Canadian banking and international banking divisions and will affect people at all levels of the organization".
The statement said "in international banking, the charges are primarily for closing or downsizing approximately 120 branches, which will allow us to focus on high-growth markets, minimize branch overlap, and realize synergies resulting from recent acquisitions."
Scotiabank made a record CAN$6.7-billion net income in 2013.