Tourism 'high season' in Chile has extended to include first half of March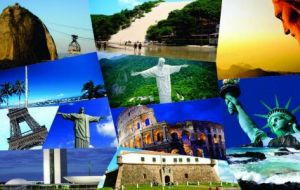 In Chile the summer 'high season' is traditionally January and February when most families chose to take their annual holidays and March the month when things 'return to normal', mostly because children return to school.
Well apparently that statement is no longer that certain: in effect a report from the Chilean Tourism Office Sernatur indicates that a growing number of trips, domestic and overseas, on holidays in now extending to March, even April and the first half of the third month of the year is now also considered 'high season'.
"Chileans are available and willing to extend their holidays for better prices and alternatives, and also possibilities of different services for different demands to include March", said Tourism Deputy Secretary Javiera Montes.
In effect according to the report of all the trips and travels which includes staying overnight made by Chileans in a year, 4.8% and growing take place in March, with an average of six nights. Appealing to 2011 figures: of the 20.739.950 trips in a year and staying overnight, in March the number was 995.517.
According to Ms Montes this has made travel agencies to extend the so called 'high season' to the first fortnight of March, because of the strong demand, particularly overseas travel.
"March is a peculiar month, it's a transition period, when the summer season comes to an end and the low season begins with new promotions which invite people to continue traveling with the benefits of that period", according to Christina Meeks, head of Viajes Falabella regional business office.
Cocha travels manager Magdalena Leonvendagar revealed that in effect there has been an increase in the number of trips in March and April, as people have more available time to travel anytime of the year.
Meeks also points out that in the younger segments, for over five years now, "there is a tendency to postpone summer holidays and organize annual vacations in March, April. This is because they have a greater access to flights, hotels, taking into account that the majority of Chilean tourists, particularly families, take their holidays in January and February".
Falabella admits that of the total people that take holidays with their agency, 15% are choosing March, of which 10% are young people and the rest is divided between families and the older segments. In March Chileans are choosing are choosing to travel to Colombia, Brazil, Argentina, Mexico, Europe and the US.
This apparently is not a tendency limited to Chile but extended to the whole industry worldwide: de-concentrating summer high season for distribution in the rest of the year.
"Chileans not only have changed their vacationing habits: before it was concentrated in the first half of February, when most flocked to all available spaces, but now the idea is to take advantage the whole year around, splitting holidays in different moments of the year and thus dividing vacation times", pointed out Ms Montes.
"It's important to understand that Chileans now travel the whole year round, taking advantage of long weekends, special promotions and looking out for new places to discover", concluded Meek from Falabella.