Projected 2014 cereal production trimmed back despite record maize and wheat harvests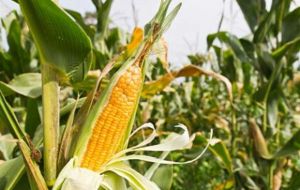 According to FAO's monthly Cereal Supply and Demand Brief release, the forecast for 2014 world cereal production by about one million tons. At 2.5 billion tons, the full-year production figure would be 3.7 million tons below 2013's record output.
The downward revision reflects a dimmer outlook for China's maize production, even though global maize output is still expected to reach a new record of 1.01 billion tons on the back of bumper crops in the European Union and the United States.
Meanwhile, the forecast for global wheat production has been raised, as output from Ukraine is on track to be higher than previously expected. This growing season's wheat crop is now expected to top last year's record harvest with a total output of 722.6 million tons.
For rice, the forecast for global production remains unchanged at 496.3 million tons in milled rice equivalent. This would be 0.3% less than in 2013, and would mark the first decline since 2009.
Global inventories of all the main cereals remain on course to hit a 15-year high, although the forecast was marked down by 2.7 million tons from October's projections to 624.7 million tons.
This figure is 8.0% above the level at the start of the 2014/15 growing season and would raise the global cereal stock-to-use ratio to a twelve-year high level of 25.1%.
Wheat reserves are projected to rise by 9.3% this year, while rice inventories are forecast to fall by 2.0%, reflecting expected inventory draw-downs, especially in major exporting countries such as India and Thailand.
FAO's November brief also observed that global cereal utilization for direct human consumption is set to expand by 0.9% -in line with the global population, leaving per capita consumption stable- while utilization for livestock feed is expected to rise by 2.6%. This growth is being driven in part by large quantities of low-quality wheat currently in markets being used for feed.