Uruguay expects poorer cruise season, partly compensated by Costa Cruises
Tuesday, November 11th 2014 - 09:59 UTC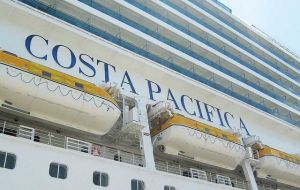 Uruguay expects a slowing down of cruise activity this season, probably in the range of 10% less vessel calls, particularly in Punta del Este, because of "logistics problems with the circuits". However this will be partly compensated by the two Costa Cruise company vessels that will be operating from Montevideo as the starting point and end of South Atlantic tours.
"The tourists travelling in 'Costa Pacifica' and 'Costa Favolosa' will help to mitigate the expected 10% descent in cruise activity this season, particularly for Punta del Este which is facing 'logistics problems with the circuits'" revealed Uruguay's Deputy Tourism minister Antonio Carambula.
"The passengers boarding or disembarking in Montevideo with Costa Cruises might even decide to spend overnight in the city and at the end of the tour could take advantage of staying and enjoying all that Uruguay has to offer", added Carambula.
The deputy minister pointed out that the Uruguayan Tourism ministry is planning improvements in the port of Montevideo, thus increasing its potential as a cruise terminal and regional hub for the industry, given not only the port facilities, but also the Carrasco airport, considered among the short list of best air terminals.
"Uruguay has experienced sustained growth for several years now regarding the number of cruise calls and the goal is to have adequate facilities so as to make Montevideo a hub for the cruise industry", said Carambula
Last season Punta del Este and Montevideo had 237 cruise calls with an estimated 400.000 visitors, which according to the official spent somewhere in the region of 20 million dollars.
Brazilians made up 45.5% of the visitors followed by Argentines, and to a lesser extent Europeans and North Americans.
This 2014/15 season extending from November to April will have besides the regular visits, the two Costa Cruises operating from Montevideo, which will help promote Uruguay as a "tourist destination" for many first time travelers to this part of the world, "given the local hospitality and the good time they will enjoy; we could even make them repeaters".
Carambula said that this is a great opportunity to turn these first time visitors in "real ambassadors" of Uruguay.
Finally the Tourism official revealed that Uruguay is working to have Colonia, a former Portuguese fort, only fifty miles from Buenos Aires on the Uruguayan coastline as another cruise destination. The good conservation of the old fortified city has had the city included in the Unseco heritage list.